Bochy considered using Bumgarner as a DH: 'He's a legit hitter'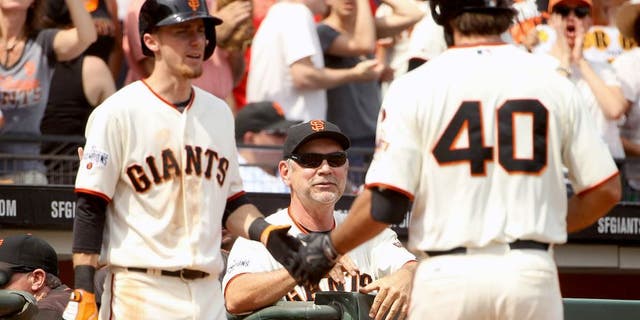 Madison Bumgarner isn't your average pitcher, not just on the hill but at the plate as well, to the extent that his manager recently mulled over using him as designated hitter in a game he wasn't pitching.
Bumgarner, who was honored with the NL's Player of the Week award on Monday, has been swinging a mighty bat for the past two seasons.
After hitting .258/.286/.470 with four home runs and 15 RBI last season, the 26-year-old ace, who hits from the right side, has been on a tear at the plate, hitting .245/.273/.491 with four home runs and seven RBI in 24 games this year.
His hitting prowess was on full display on Sunday, when he went 2 for 3 with a double and a home run in addition to throwing a three-hit shutout.
Although it didn't come to fruition, Bochy admitted that he considered using Bumgarner as the team's DH in a series earlier in August against the Texas Rangers because of his hot bat.
"He's a legit hitter," Bochy said. "He's not a pitcher I think you hit eighth. He could hit seventh."
As impressive as Bumgarner's ability to both pitch and hit well in any given game, his utility as an elite pitcher is what will help the Giants as they chase the Dodgers for the NL West title.
And he's doing quite a fine job of putting San Francisco in a position to win games.
On the rubber last week, Bumgarner combined for two complete games, only allowing a collective earned run and eight hits while striking out 26 batters.
(h/t CSN Bay Area)