Bobcats finish season with lowest winning percentage in NBA history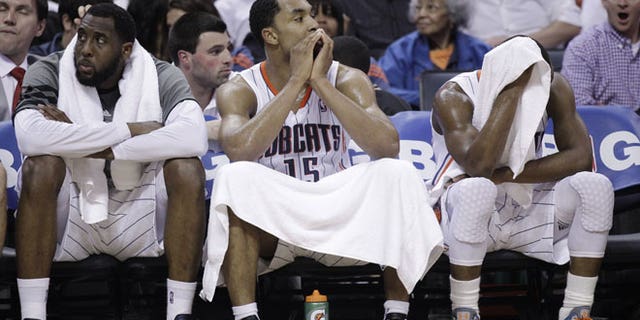 CHARLOTTE, N.C. – Widely regarded as the greatest player in history, Michael Jordan led the 1995-96 Chicago Bulls team that broke the NBA record when it finished the regular season with a 72-10 win-loss record.
Now, as owner of the Charlotte Bobcats, he has the dubious honor of also being connected to the team that finished the regular season with the lowest winning percentage on record.
The Bobcats lost their season finale to the playoffs-bound New York Knicks Thursday night, going down 104-84 in front of their home crowd.
The Bobcats' loss, the team's 23rd in a row, brought their pitiful season to a close and ensured they finished with a 7-59 win-loss record.
The team's 0.106 winning percentage lowered the previous record achieved by the Philadelphia 76ers in 1972-73 when they finished the season 9-73 (0.110).
Adding insult to injury, the Knicks were resting star forward Carmelo Anthony and prospective NBA Defensive Player of the Year Tyson Chandler in their last game of the season.
Possibly the only thing saving Jordan's legacy is the fact the Bobcats' record will be paired with an asterisk, explaining the 2011-12 NBA season was shortened to 66 games (instead of the usual 82) because of the prolonged lockout last year.
And there is one more bonus -- by finishing as the league's worst team, the Bobcats will have the best chance of any team of securing the No. 1 pick in what is expected to be a loaded draft featuring Kentucky's Anthony Davis.