Blues would enjoy playing spoiler against Hawks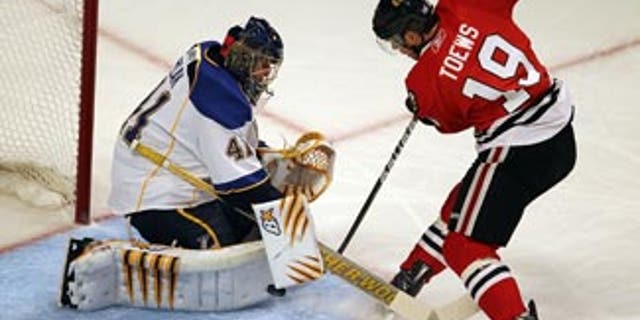 NEWYou can now listen to Fox News articles!
CHICAGO -- Maybe the St. Louis Blues just aren't as nice as the Detroit Red Wings when it comes to their rivalry against the Chicago Blackhawks.
While the Red Wings sidestepped questions last week about getting satisfaction from possibly knocking the Hawks out of the playoffs, the Blues aren't dancing around anything. St. Louis wraps up its season series against Chicago at the United Center Wednesday night (8 p.m., Versus) and the Blues would love to elicit boos with a win.
"It's a heated rivalry," Blues defenseman Carlo Colaiacovo told NHL.com at St. Louis' optional morning skate. "For us, obviously we wish there was more to play for, but what better thing to play for than to help them stumble a little bit and put the pressure on them a little more? We don't want to be in the position we're at, on the outside looking in, but at the same time it could be some real positive reinforcement for us -- knowing that if we help them stumble and at the end of it they're on the outside looking in, we were the cause of it."
St. Louis is out of the playoff picture in the Western Conference (11th place, 84 points), but the Hawks (93 points) are hanging onto the conference's eighth and final playoff spot by a thin thread over the Dallas Stars and Calgary Flames, who both have 91 points.
A loss to the Blues would put the Blackhawks in a precarious position as the regular season's final weekend approaches. Chicago has a tough home-and-home series with the Central-leading Red Wings (103 points) and might have to sweep both games just to stave off the ninth-place Stars -- who play three teams not in playoff contention, including two against the 14th-place Colorado Avalanche.
Should the Hawks not make the playoffs, they would become just the fifth team in the expansion era (post-1967) to not qualify for the postseason the year after winning the Stanley Cup.
"You realize they had a pretty good year last year and they need points and we can deny 'em that opportunity," St. Louis coach Davis Payne told NHL.com. "There's enough satisfaction in that for us to play our game. These two teams have gone at it for quite some time. There's a lot of history in the games that have been played between these two teams and there's no reason for that not to continue."
The Blackhawks are 3-2 against the Blues this season and have won both games at the United Center -- including an overtime win on Oct. 18 in which Marian Hossa scored twice in the final seven minutes of the third to tie it. The teams usually have some hard hitting action, maybe a fight or two but have also combined for 35 goals -- including a 7-5 Chicago win on Nov. 30 at the United Center and a 5-3 Hawks win on Feb. 21 in St. Louis.
That Feb. 21 game in St. Louis was the second win in a season-high eight-game winning streak for Chicago and was notable for a first-intermission tirade by Hawks captain Jonathan Toews that sparked a comeback. Toews and company will need that same fire on Wednesday night to beat the Blues, because St. Louis isn't just going to give the two points away.
The Blues have won two in a row and are 6-3-1 in their last 10 games. They're also motivated to spoil the Hawks' postseason plans.
"They have had our number the last couple of years and it would be nice to come in here in front of their fans and hopefully get a win and put a damper on their hopes," Colaiacovo told NHL.com. "At the same time, we know they're a desperate team. We've been playing good hockey lately, too, and there's a lot of guys in here playing for jobs and pride and passion. If we can bring that into tonight, it will be a pretty exciting game."