Blues seek to close gap with Central-leading Stars on Saturday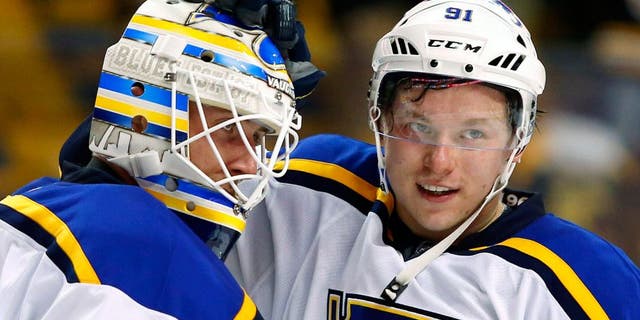 Last year, St. Louis entered the Christmas break with an 11-point lead on Dallas, and that gap only grew by season's end.
This time around, the Blues are on roughly the same pace, but the Stars are celebrating the holiday with an eight-point lead over their Central Division foes, who are the closest to them in the Western Conference.
The disparity can grow to 10 points Saturday night when the Stars visit St. Louis seeking a fourth straight win paced by their high-powered offense in a likely matchup of goaltenders coming off shutouts.
Dallas (26-7-2) leads the NHL with 54 points in 35 games after missing the playoffs in a season that saw Anaheim lead the league at the break with 51 points in 36 contests. The Stars beat Stanley Cup-defending Chicago 4-0 at home Tuesday before three days off.
"It's all part of the growing process for our team," Jason Spezza told the team's official website. "I think everybody seems to bring their best to us every night. We're going to see the best from teams.
"Chicago is Chicago. They bring fans with them. They bring an intense atmosphere, and they're always exciting games. I thought we handled ourselves pretty well tonight."
Spezza scored a power-play goal in the second period before former Blackhawks forward Patrick Sharp, Colton Sceviour and Mattias Janmark added to the lead in a third period that featured a 17-3 shot advantage.
Spezza and Sharp have both scored twice in the last three as part of the team's 16-5 scoring advantage on the streak. The Stars are 5 for 14 on the power play in that time.
St. Louis (21-11-4), however, has had the answer to that scoring and began the season series with a 3-0 home win Dec. 12 for its second shutout on a three-game winning streak over the Stars. It stands as the only shutout against Dallas this season while Detroit and Minnesota remain the only teams not to be blanked.
Jake Allen was responsible for both of those shutouts, and he also was in goal for the Blues' 2-0 win in Boston on Tuesday. After the 32-save effort, Allen has a 1.58 goals-against average and .943 save percentage on a 5-2-0 span.
"I felt pretty good (in Monday's 4-3 loss in Philadelphia) even though we lost. I wanted to carry that momentum into tonight," Allen said. "It was a good road game (tonight) -- two teams with similar skills. Last night, we were all-in for like 18 minutes, then let the foot off. Tonight it was a full 60."
The Blues have won four of five, and Vladimir Tarasenko scored for the sixth time on a seven-game point streak with five assists. He also has six goals and an assist in five games against Dallas since the start of last season.
Allen is 2-1-0 with a 1.30 GAA and .947 save percentage in four career games against Dallas, while Antti Niemi has 6.06 and .811 marks on a three-game skid versus St. Louis dating to his time with San Jose.
Niemi, however, has posted a 1.41 GAA and .942 save percentage over a 5-1-0 span after the shutout against Chicago.
"I thought he made a couple of big saves," Stars coach Lindy Ruff said. "We were great defensively in front of him. I don't think they had a scoring chance in the third period."
Jamie Benn has five goals in his last four games against the Blues.