Blue Jays fall behind 8-0 for 2nd straight day, no comeback this time as Reds win 11-1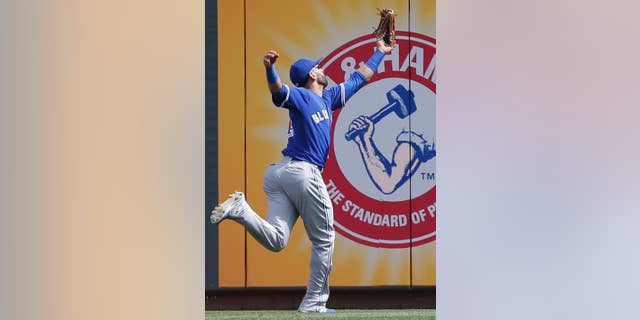 CINCINNATI – J.A. Happ couldn't throw a strike in the first inning, leaving Toronto in another big, early hole. This one was too much to overcome.
Jay Bruce's homer helped the Reds get ahead 8-0 for the second day in a row, and Mike Leake made this big lead stand up, pitching eight innings on Saturday for an 11-1 victory over the Blue Jays.
A day earlier, the Blue Jays pulled off the second-biggest comeback in their history. Down 8-0 after the second inning, they rallied to a 14-9 victory behind a pair of homers from Edwin Encarnacion.
The Reds got ahead 8-0 after four innings on Saturday against J.A. Happ (6-4), and the Blue Jays didn't have another big comeback in them.
"He didn't have it today," manager John Gibbons said. "We never really had a chance. It was another big deficit to overcome. It was a little disappointing after last night, but there's nothing we can do about it now."
Leake (5-6) had a lot to do with it, allowing the Blue Jays only four hits, including Colby Rasmus' homer.
The Blue Jays are 9-5 all-time against the Reds, having won their four previous interleague series.
Cincinnati's offense has languished near the bottom of the majors for much of the season, with Bruce and Joey Votto spending time on the disabled list. Both are back, and the Reds are starting to hit. They've scored at least nine runs in four of their last six games.
Devin Mesoraco added a three-run homer in the seventh, his third homer in three games, as the Reds pulled away.
Happ made it easy for the Reds in the first inning, walking three batters with two outs. Ryan Ludwick drove in two runs with a single, and another scored on Erik Kratz's passed ball.
"The walks — that's terrible," Happ said. "That's obviously frustrating. But with this game, the game is crazy. If some balls were hit a couple of feet either way, it could have been a different story."
Bruce's homer in the third inning gave him 47 homers off left-handers over the last five seasons, the most by any player in the majors. Bruce scored three times overall.
The Reds made it 8-0 in a fourth inning highlighted by RBI doubles from Votto and Brandon Phillips. Leake singled and scored during the rally.
Happ lasted only four innings and give up seven hits, eight runs and four walks. The four innings were a season low. The four walks matched his season high. The last time he gave up so many runs was July 13, 2012 against San Francisco.
"Today he was out of whack," Gibbons said. "Chalk one up and move on."
Billy Hamilton singled home a run, extending his hitting streak to a career-high 10 games. He also stole his 31st base, the most by a Reds rookie since Chris Sabo stole 46 in 1988.
After their four-homer, 16-hit splurge in the series opener, the Blue Jays went back into their hitting funk. The AL East leaders have lost 10 of their last 14 games, scoring two runs or less seven times during that span.
NOTES: Johnny Cueto, who leads the NL with a 1.92 ERA, goes in the final game of the series against R.A. Dickey, who got two extra days of rest after his last start because of a sore groin. ... Both teams bolstered their bullpens before the game. The Blue Jays called up LHP Rob Rasmussen and optioned RHP Liam Hendriks. The Reds called up RHP Carlos Contreras and designed OF Roger Bernadina for assignment. Both got into the game. ... SS Jose Reyes fouled a pitch off the side of his left knee in the fifth inning but stayed in the game and popped out. He was replaced as part of a double switch in the bottom of the inning. ... The Reds had their fourth sellout of the season. They're 1-3 in front of sellout crowds at Great American Ball Park this season.
___
Follow Joe Kay on Twitter: http://twitter.com/apjoekay