Blue Jackets' Matt Calvert loses temper, delivers ugly cheap shot to Penguins player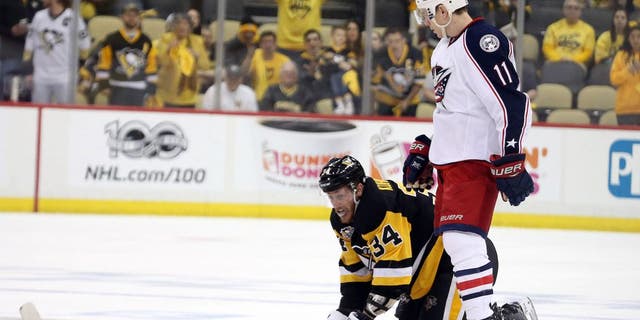 NEWYou can now listen to Fox News articles!
The end of Friday's Game 2 between the Blue Jackets and Penguins took an ugly turn when Columbus' Matt Calvert delivered an cheap shot toTom Kuhnhackl behind the play.
First, Calvert broke his stick over Kuhnhackl's back viaa brutal cross-check near center ice, then came back for more and delivered another check to Kuhnhackl as he wasdoubled over. The incident took place in the final minute of regulation as the Penguins were closing out a 4-1 win, and it was likely a product of Calvert's frustration as his team was about to go down 2-0 in the series.
Still, it was unnecessary and cheap and could land Calvert with supplemental discipline from the league's Department of Player Safety as a result. He was given just a two-minute minor penalty for cross-checking on the ice.