Blind, Autistic teen wows Fenway with rendition of national anthem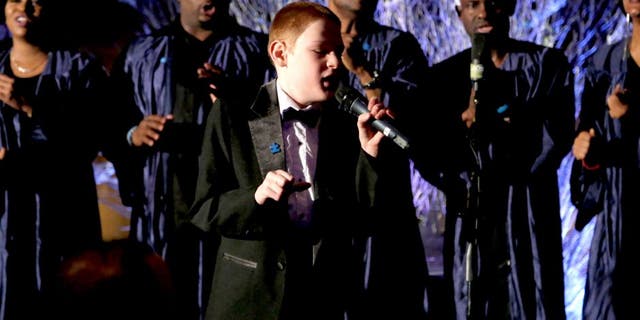 NEWYou can now listen to Fox News articles!
A blind, Autistic teenager sang the national anthem Monday night at Fenway Park, bringing an announced crowd of 32,701 to its feet before the Boston Red Sox's 8-2 loss to the Cleveland Indians.
The boy, 13-year-old Christopher Duffley, of nearby Manchester, New Hampshire, was delivered premature and weighed just 1 pound 12 ounces when he was born. Retinopathy of prematurity, a disease that causes abnormal blood vessels to grow in the retinas of some premature babies, left him blind.
On Monday, Duffley -- who has also performed at the Winter Ball for Autism and alongside his sister, Grace, at the World Outreach Church -- paused briefly before he performed the Star Spangled Banner, thanking the crowd before beginning his 1:37 rendition of the song. As he finished the final notes, the crowd gave him a standing ovation that is sure to give you goosebumps:
EMBED:
Monday actually marked Duffley's third National Anthem at Fenway. He also sang before Red Sox games in 2011 and in 2013, in addition to a NASCAR truck series event at New Hampshire Motor Speedway in 2011. And with pipes like that, it's no wonder they keep inviting him back.