Bledsoe shines but turnovers doom Suns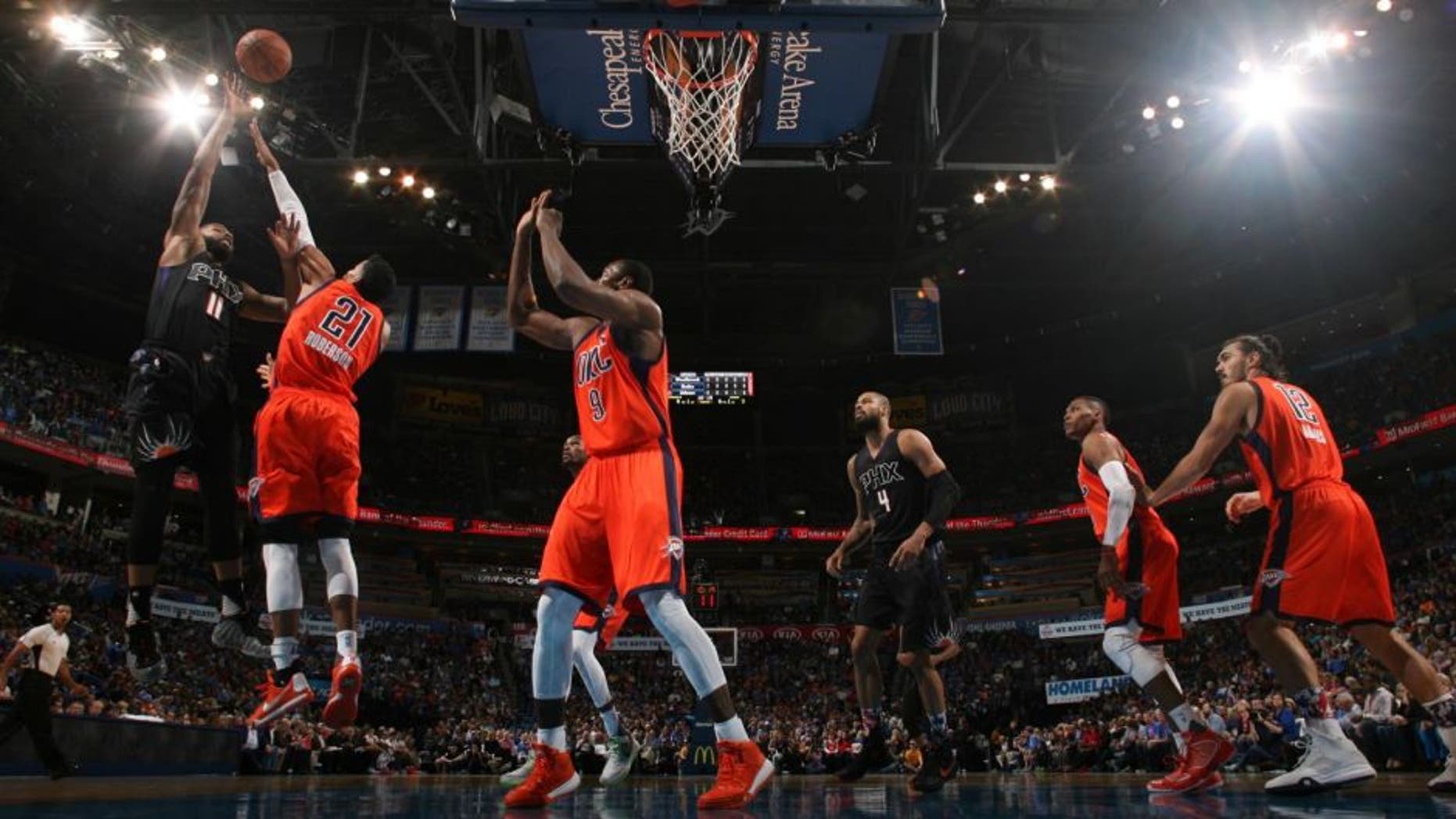 OKLAHOMA CITY -- Kevin Durant had 32 points and 11 rebounds, and the Oklahoma City Thunder beat the Phoenix Suns 124-103 on Sunday night to snap a three-game losing streak.
Russell Westbrook had 21 points, 13 assists and six rebounds, and Enes Kanter had 21 points on 9-for-10 shooting for the Thunder, who forced 23 turnovers and outrebounded Phoenix 52-33. Dion Waiters added 19 points.
Oklahoma City opened the season with three straight wins, then lost the next three by a combined 16 points. The Thunder shot 52 percent from the field against the Suns to make sure it wasn't close late.
Eric Bledsoe had 28 points and 11 assists, Markieff Morris scored 19 points and T.J. Warren added 17 for Phoenix, which lost for the third time in four games.
The Thunder led 60-54 at halftime. A wild sequence during which the Thunder nearly turned the ball over several times ended with an easy layup for Andre Roberson that gave Oklahoma City a 76-63 lead in the third quarter. A fast break led to a nifty bounce pass from D.J. Augustin to Enes Kanter, who scored and was fouled. The free throw bumped Oklahoma City's edge to 89-75.
The Thunder reserves, who were badly outplayed in the first half, handled business early in the fourth quarter. A fast-break dunk by Mitch McGary put Oklahoma City up 96-81 with just under 10 minutes to play.
After the starters returned, Durant hit a pull-up 3-pointer, then a fast-break layup to make it 110-90 with six minutes remaining.
TIP-INS
Suns: Bledsoe scored 15 points in the first quarter, the most he's ever scored in an opening period in his six-year career. ... Bledsoe made 6 of 7 field goals in the first quarter. The rest of the team made 4 of 18. ... Bledsoe's 20 points in the first half was the second-highest first-half total of his career.
Thunder: Center Steven Adams started, despite a sore back. He finished with seven points, five rebounds and five blocks in 19:31. ... Westbrook had six points, six assists and three steals in the first quarter. ... Oklahoma City led by 15 points in the first quarter, but the score was tied at 29 at the end of the period. ... Oklahoma City made just 1 of 11 3-pointers in the first half.
UP NEXT
Phoenix hosts the Los Angeles Clippers on Thursday.
Oklahoma City plays at Washington on Tuesday.