Blake Griffin soars over car to win slam dunk contest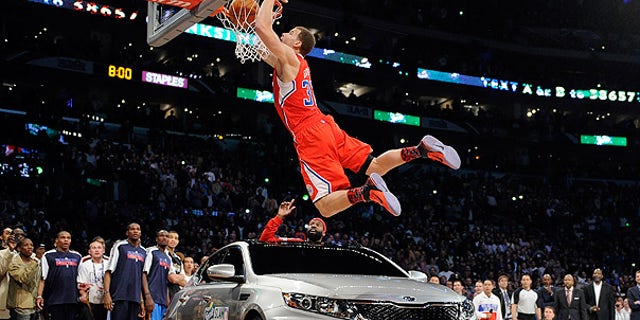 LOS ANGELES -- Blake Griffin soared over an automobile and into a new stratosphere on Saturday with an awe-inspiring performance to win the NBA's slam dunk contest.
The Los Angeles Clippers rookie, who has created a frenzy this season with highlight reel dunks, caught a pass out of the sunroof from team mate Baron Davis and threw down a two-handed dunk while a choir sang "I Believe I Can Fly" at midcourt.
"Just being out here and having the experience of something I watched growing up. To be able to be out here is great," the 21-year-old Griffin told reporters.
Griffin entered the competition as the favorite to win but it was Washington Wizards high-flyer JaVale McGee who created the biggest buzz in the opening round.
The seven-footer (2.13m) used two baskets and then dunked with three basketballs during separate displays that earned him perfect scores from the judges.
But Blake prevailed in the final with a slam that saw him insert his forearm into the net and hang from the rim by his elbow before bringing the car onto the court.
Earlier, Miami Heat sharpshooter James Jones crashed a Boston party by defeating Celtics team mates Ray Allen and Paul Pierce to win the three-point contest.
Golden State guard Stephen Curry outlasted Oklahoma City point guard Russell Westbrook to claim the skills challenge, a mix of dribbling, shooting, layup, and passing drills.
(Editing by Frank Pingue)