Blake Bortles enjoying Jacksonville's new offense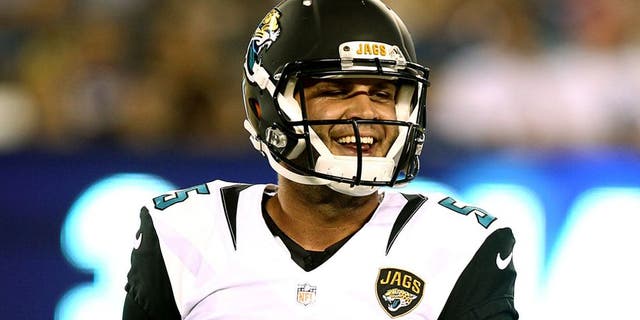 As he masters his third offense in as many years, Jacksonville Jaguars quarterback Blake Bortles has found a lot to like in offensive coordinator Greg Olson's scheme.
Initially, though, he wasn't sure about it.
"I felt the first time going through it, I didn't really know (if I liked it)," Bortles said, per ESPN's Mike DiRocco. "It's my third offense in three years and every offense I've been a part of I've liked stuff and I haven't liked stuff. I think this one's definitely been the best.
"I've enjoyed learning it. I've enjoyed trying to master it, and that's what I'll continue to do."
After throwing 11 touchdowns and 17 interceptions as rookie, Bortles and the Jaguars are looking for significant improvement in 2015. So far, the results have been promising.
Through two preseason games, Bortles has completed 19-of-31 passes for 216 yards. If not for sox dropped passes, his numbers would be even better.
"It's a cool system because there are not a whole lot of plays where it's like, 'Oh, I really don't like that,'" Bortles said. "But there are a couple plays where it's like, 'OK, I really like these. I know these in and out vs. every look. These are my gotta-have-it calls, or when we get into trouble, this is my go-to call.'
"So, I do have those, and that'll hopefully continue to grow that list until you eventually own the whole playbook."
Bortles will have another chance to show off the new offense in Friday night's preseason game against the Detroit Lions.
(h/t ESPN)