Blackhawks' Stanley Cup tribute truly a-maze-s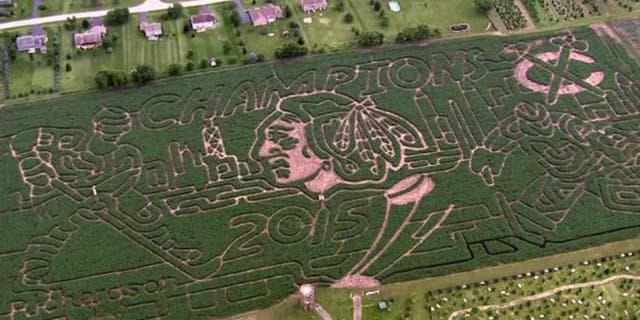 An Illinois adventure farm is paying a cool tribute to the Stanley Cup champion Chicago Blackhawks.
Richardson Adventure Farm has announced a last-minute change to its maze design, according to WLS.
The farm claims to be "the world's largest and most intricate corn maze."
"So we called our maze designer out in Idaho and asked if he had time to create a new design," George Richardson said. "Then we got permission from the Blackhawks to use their logo. The result is a bold design with the Blackhawks logo in the center and the Chicago skyline in the background, flanked by two hockey players and the word 'Champions.'"
The change was made over the Fourth of July weekend as the maze designer cut 11 miles of trails into the maze's 30-acre corn field with a GPS system as a guide.
For more information, visit www.RichardsonAdventureFarm.com.