BJ Penn says his return has been pushed back to UFC 197 in April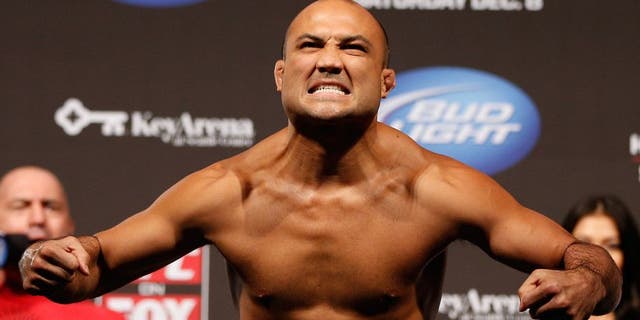 NEWYou can now listen to Fox News articles!
It looks like BJ Penn's return to the Octagon has hit a slight delay with the former two-weight world champion now targeting UFC 197 on April 23 for his comeback fight.
Penn has been training in Albuquerque as part of the Jackson-Winkeljohn fight team for the past few weeks in preparation for a proposed slot on the UFC 196 fight card on March 5 in Las Vegas.
On Monday, Penn released a statement via his website that revealed his new date, per the UFC matchmakers, will see him return in April instead.
"I thought the fight guaranteed was going to happen because the UFC, they set up medicals for me to do," Penn said. "I did the medicals and they were sending a film crew down and we were getting all that together and I assumed we were setting up the fight, and that might have been what was happening.
"But, at the end of the day, Sean Shelby called me and said it would be more convenient for all of us to move the fight to April 23rd."
The card taking place on April 23 was just announced as UFC 197 over the weekend with Daniel Cormier facing Jon Jones in the main event along with flyweight champion Demetrious Johnson taking on Olympic gold medalist Henry Cejudo in the co-main event.
No opponent has been confirmed for Penn's return to action, but the UFC Hall of Famer did say the plans in place should remain the same for the new date in April. As of last week, featherweight contender Dennis Siver was the leading candidate to face Penn in his return fight, but there's still no confirmation from the UFC on that potential matchup.
Penn will fight for the first time since 2014 when he lost by TKO to Frankie Edgar and promptly retired from the sport at the post-fight press conference.
Just recently, Penn joined the famous team in New Mexico responsible for former light heavyweight champion Jon Jones, Carlos Condit and others as he prepares for a return to action while coming out of retirement.
From the sound of things, this delay will only give Penn more time to get ready because he says he's staying planted in New Mexico for the duration until his fight is booked and he's ready to return.
"You know what? I'm going to stay here the whole way out and train," Penn said. "You have heard 'what you feed the most, grows the biggest,' and I'm going to stay here and immerse myself in the martial arts and see how good I can get."