Bills WR Robert Woods: 'It's hit or be hit' when laying blocks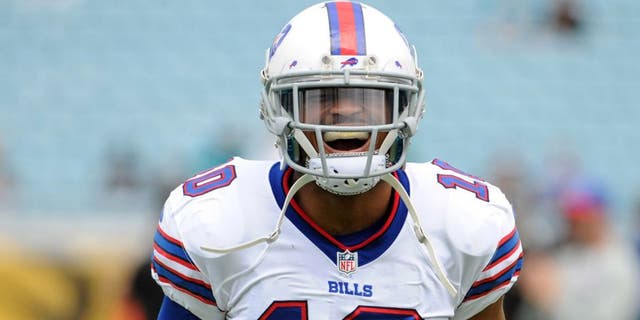 NEWYou can now listen to Fox News articles!
When Tyrod Taylor broke loose for a dazzling 22-yard touchdown run, he dropped the jaws of everyone watching the game with his jukes and elusiveness. What went somewhat unnoticed was the huge block wide receiver Robert Woods made on two Tennessee Titans defenders that sprung Taylor loose down the sideline.
While Woods hasn't been targeted often in the passing game, he's more than willing to step up and make plays in different ways -- and laying blocks is one of those ways.
"I can only control my job and that's to be open," Woods said via Tyler Dunne of the Buffalo News. "Other than that, it's to help in any way possible and help this team win whether it's blocking, covering kicks and still being a part of the win."
Woods has caught just 13 passes for 164 yards this season after having a ton of success a year ago. In 2014, he caught 65 passes for 699 yards and five touchdowns, so his absence is a bit surprising. Part of the reason could be the amount of pressure Taylor is facing in the pocket.
"A lot of guys are open," Woods said. "We're just trying to be an open target for Tyrod -- there's a lot going on in the pocket. Defenses are throwing a lot of stuff at him. But just trying to be open. When the ball's in the air, we're trying to get it. But other than that, we're just trying to be an open target for him."
Since Woods isn't seeing many balls thrown his way, he's focused on improving as a blocker in Buffalo's run-heavy offense. Not to mention, he enjoys knocking defenders off their feet every now and then.
"If I got a clean shot, I'd definitely go for the hit," Woods said. "But it's just setting the tone. The safety's going to come down and try to clean you out. So you might as well get him first. ... "It's hit or be hit."
MORE NEWS: Want stories delivered to you? Sign up for our NFL newsletters.