Bills' Tyrod Taylor is excited, prepared for shot at winning QB job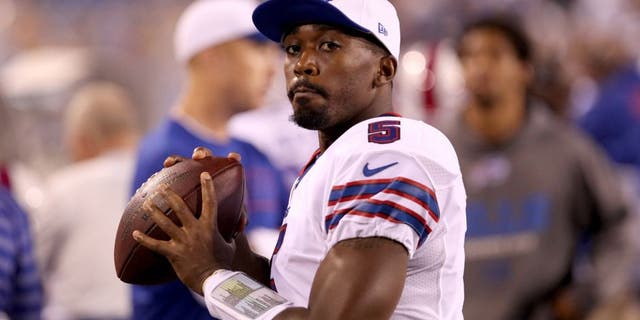 The never-ending question of who will start at quarterback for the Buffalo Bills will likely continue until the regular season begins. That is, unless one of the three quarterbacks vying for the job steps up and claims it.
Thus far, Matt Cassel, Tyrod Taylor, and EJ Manuel have failed to do so, leading the coaching staff to delay naming a starter for the regular season -- or even the next preseason game.
In the team's first preseason game, Taylor electrified with his playmaking ability on the ground, pushing his name towards the top of the list on the depth chart.
It's a situation he hasn't been in since entering the league in 2011 as he was forced to sit behind Joe Flacco in Baltimore. Needless to say, he's excited for the opportunity.
"It's a wonderful opportunity that I have and I'm excited for it, but there's work to be done leading up to the game and I'm focusing on that right now," he said following practice on Monday via Sal Maiorana of the Democrat & Chronicle. "I think all those years I spent in Baltimore being behind Joe really prepared me for this opportunity I have now and I'm taking everything I've learned previously and I'm working it into my game."
In the first preseason game, Taylor was 5-of-8 for 49 yards through the air, while he rushed for 47 yards on the ground on just six carries. His play against the Carolina Panthers and throughout training camp has been inconsistent (like the other two quarterbacks), but his ability to run the ball is getting noticed. And he knows what he needs to do to take the next step.
"Just be consistent, get the ball to the playmakers efficiently, and just continue to be me," Taylor said. "Command the offense, move the guys up and down the field. Of course I know the opportunity is there, how big it is, but continue to be myself, that's what got me to this point, and this is what I'm taking going forward."
Taylor will get his next shot to shine in the Bills' second preseason game against the Cleveland Browns on Thursday. It's a quarterback battle that will take some time to sort out, but Taylor is confident in his ability.
(h/t Democrat & Chronicle)