Bills to place Marcus Easley (knee) on IR with 'major, major injury'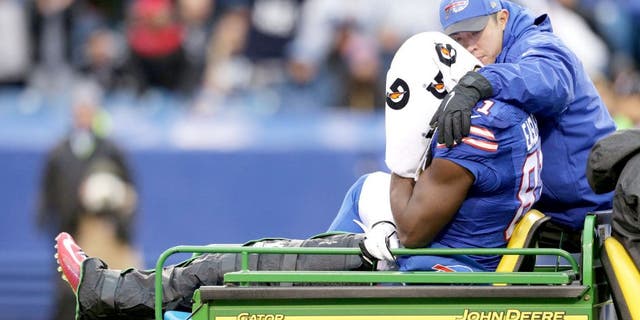 The Buffalo Bills' season has been over for a few weeks, but they were able to come away with a win over the Dallas Cowboys on Sunday. In doing so, they also lost a key contributor on special teams to a very severe injury.
Special teams ace Marcus Easley went down around midfield while covering a punt and remained on the turf for a substantial amount of time. He was carted off the field after the medical staff put his left leg in an air cast and was unable to return to the game.
On Monday, Rex Ryan provided an update on Easley's condition, and his outlook doesn't look great. Ryan said Easley broke his knee in three places and dislocated his knee cap in what was a "major, major injury."
He should be back for next season but this is a major, major injury," Ryan said, via Tyler Dunne of the Buffalo News. "Obviously he'll go on IR. He dislocated his knee cap but also broke his knee in three spots. However, they say he'll be able to come back from it. But it'll take time."
That's obviously a very serious injury and one that's not easy to recover from. However, Ryan seems confident that he'll be back next season and contributing on special teams as he typically does.
That's not to say he won't start the season on short-term injured reserve or the PUP list, though. It's not often a player suffers an injury like this, so the recovery timetable isn't easy to map out. With that said, it's promising to hear Ryan say he'll be back.