Bills TE Chales Clay leaves practice with knee injury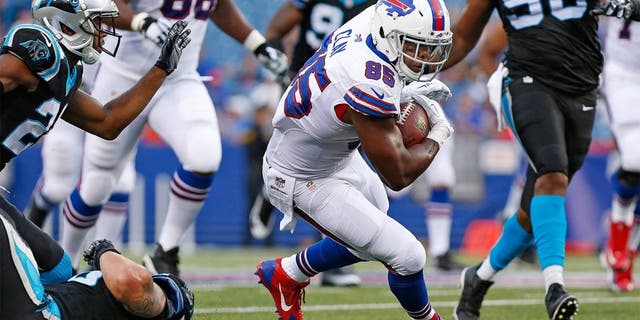 The Buffalo Bills were given a big scare on Tuesday when their starting tight end, Charles Clay, left practice with an apparent knee injury.
Fortunately, it doesn't appear as if the injury is serious, with Clay saying he's "100 percent fine."
"I'm fine," he said after practice, via Mike Rodak of ESPN. "It was just something that they wanted to look out for me a little bit. It was something that started nagging, so they decided it would be best to pull me out."
Clay signed a five-year, $38 million contract with the Bills this offseason and projects to play a big role for Buffalo this season. He hasn't performed the way many expected, but he'll still be the team's No. 1 tight end for the regular season.
Last season, Clay was hampered by a right knee injury. When asked if he injured the same knee on Tuesday, he was reluctant to comment.
"I don't want to get much into all of that," Clay said. "You can ask Rex [Ryan]. I don't want to get too much into injury talk. But I'm 100 percent fine, so I'm not worried though."
Ryan doesn't seem worried about the injury, either. In fact, he expects Clay to play in the team's next preseason game before getting some rest prior to the regular season.
"It's not a serious thing," Ryan said. "We'll probably play the game this week against Pittsburgh and then rest him, obviously, going into the next one."
(h/t ESPN)