Bills QB Taylor doesn't have to do much Sunday to earn $1 million bonus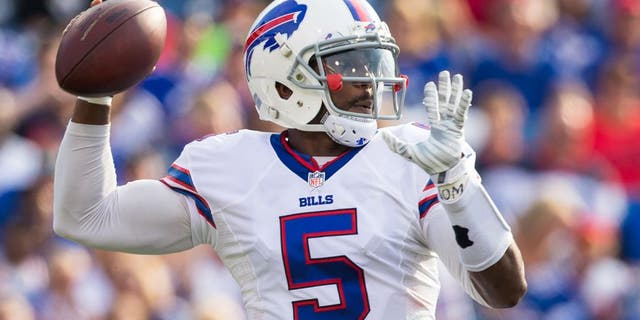 When Tyrod Taylor signed with the Buffalo Bills this offseason, his contract was loaded with incentives and escalators. He wasn't guaranteed to be the starter for 2015, so the team signed him to a cheaper contract with bonuses included if he performs well and plays a certain percentage of the team's offensive snaps.
Well, Taylor has made the most of his time in Buffalo thus far and he's set to earn himself a big paycheck on Sunday. According to Mike Rodak of ESPN, Taylor has an incentive in his contract that will pay him $1 million if he plays 80 percent of the snaps on offense this season. Up to this point, he's played 848-of-1,000, or 84.8 percent.
The Bills average just over 66 offensive plays per game, which means Taylor will likely need to play just a handful snaps to trigger the bonus. Of course, he's healthy and the Bills would like to spoil the New York Jets' playoff hopes on Sunday, so he'll be out there as long as he doesn't get hurt.
Earlier this season, Taylor voided the final year of his contract by playing 50 percent of the team's snaps. That will make him a free agent after next year, which leaves the Bills with a decision to make in the near future.
He's played extremely well in his first year as a starter, throwing for 2,853 yards, 20 touchdowns and just six interceptions, while also adding 517 yards and three touchdowns on the ground.