Bills QB EJ Manuel: 'I love it here and I want to stay here'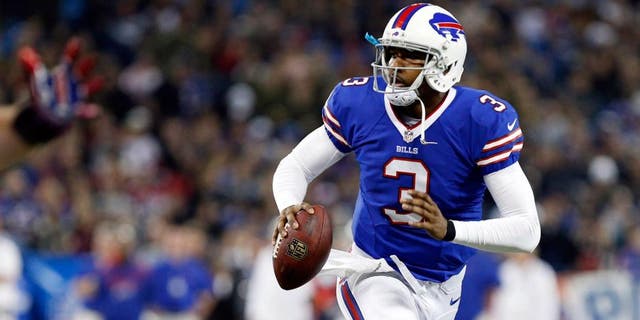 The Buffalo Bills have the most precarious quarterback situation in the NFL. Three players are vying for the starting job, with all three providing different skill sets for Rex Ryan's offense.
That's what makes the decision for Ryan and the coaching staff so difficult, along with the fact that none of the three have particularly great track records.
Tyrod Taylor and Matt Cassel are seemingly the front runners for the job, leaving EJ Manuel on the outside looking in. Ryan has hinted at keeping three quarterbacks recently, but that's no guarantee Manuel will still be with the team this season -- or in 2016, for that matter. For Manuel, leaving Buffalo isn't in his plans.
"I love it here," Manuel said to Sal Capaccio of WGR 550 Sports Radio. "As you can hear the fans out here every day watching us in practice, that means a lot to us, and I think sometimes I don't know if they understand how much that means to us to have a packed house out here every night practice we've had. When we're on the grass field, having a packed house out there it means a lot to us and hearing fans cheering for us during practice, because during the season we don't have that and, not that it gets boring, but it's a difference when you're out here playing in front of a crowd. So I love it here and I want to stay here."
Manuel hasn't had the success he'd hoped since being drafted by the Bills in 2013. He's started just 14 games for Buffalo in two seasons and that number may not increase again if he can't beat out Taylor and Cassel in camp.
"I don't look at it as fairness," he said. "You look at it as it is life, and you take what your given and you roll with and just do your best. I feel like I've been putting a good product out there on tape in these games and my main thing in practice is just be consistent. That's all I work on every day."
Reps in practice have been sporadic for Manuel and the other quarterbacks, with all three getting chances with the first-team offense. With that said, Manuel is just trying to take advantage of what he's given.
"I don't know how it's going to play out as far as the game yet, but for me, whatever reps I do get, I just try to take advantage of them like I did the past two weeks."
(h/t WGR 550)