Bills GM Whaley on QB Taylor: He has 'everything you're looking for'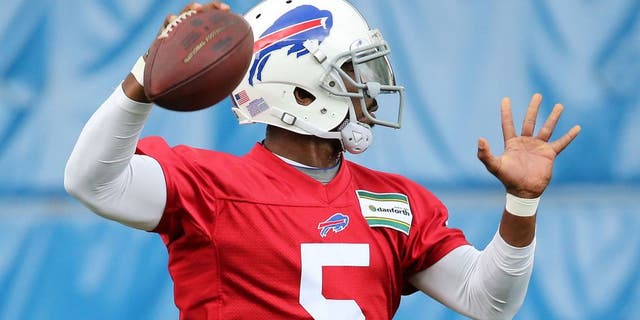 After one preseason game, the Buffalo Bills' quarterback situation still isn't great with none of the three establishing themselves as the consensus starter. EJ Manuel has seemingly fell out of the race slightly, even admitting that his days with the Bills could be numbered.
On the other hand, Tyrod Taylor's strong performance in the team's first preseason game has gotten the attention of coaches, as well as the Bills general manager.
"He's got everything you're looking for," GM Doug Whaley said per Tyler Dunne of Buffalo News. "We just have to make sure he can produce when his time's called."
If Taylor is everything they're looking for, why hasn't he been named the starter? Well, because he hasn't proven himself enough with the first-team offense apparently. He'll get that chance in the second preseason game on Thursday, according to Whaley.
"It's a production-based business," Whaley said. "He produced with the twos so we're excited for him to get in there Thursday with the ones to see what he can do. Everybody knows what he can do with his feet. But I'm impressed with a couple of his throws."
Needless to say, Thursday's game will be huge for Taylor, but it won't be his only opportunity to make his case to be the starter. When asked if Taylor could potentially win the job with a strong performance Thursday, Whaley was hesitant.
"[It will be] a combination of practices and everything. It'd be a big step forward for him."
Matt Cassel and Taylor will continue to battle it out throughout camp and the preseason. Taylor has gotten more attention than Cassel, but the competition is nowhere close to being over. There's still a long way to go, but it could be going worse for Taylor.
(h/t Buffalo News)