Bills FB on LeSean McCoy: 'I want him to get 2,000 yards'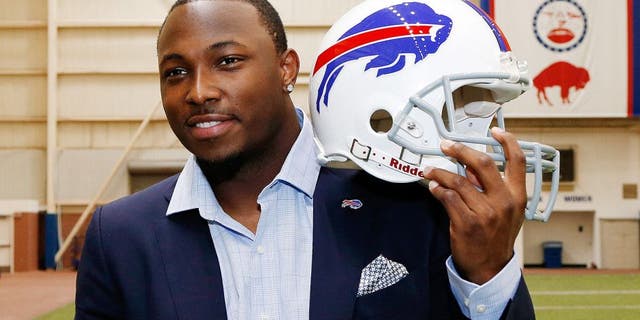 The Buffalo Bills and Philadelphia Eagles started off the offseason with a bang, flipping Kiko Alonso for LeSean McCoy back in March. Alonso went to a linebacker-needy team in the Eagles, while McCoy will replace the since-departed C.J. Spiller. Understandably, expectations are high for both players.
For McCoy, the league's leading rusher in 2013, he's expected to be a dynamic playmaker for a stagnant Bills offense. But that's not all, according to one teammate.
"I want him to break records," Bills fullback Jerome Felton said. "I want him to get 2,000 yards. I want him to lead the league in rushing. Him and Adrian are cut from the same cloth. I would be very disappointed if he's not the leading rusher in the league next year, that's for sure."
Reaching the 2,000 yard mark is incredibly difficult, but it's not out of the question for McCoy. He piled up 1,607 yards in 2013 on 314 carries. He has averaged a healthy 4.6 yards over the course of his career, and has remained relatively healthy each year -- both key factors in rushing for a big number of yards.
Having a confident fullback as your lead blocker helps, especially when he's blocked for another 2,000-yard rusher in Adrian Peterson. Felton doesn't see why McCoy can't do the same.
"Why not?" Felton said. "He has the ability that it takes. For a runner to get 2,000 yards, you have to be able to score from anywhere on the field. That's my goal for him."
(h/t NFL.com)