Bills DT Marcell Dareus says he'd sign franchise tag in 2016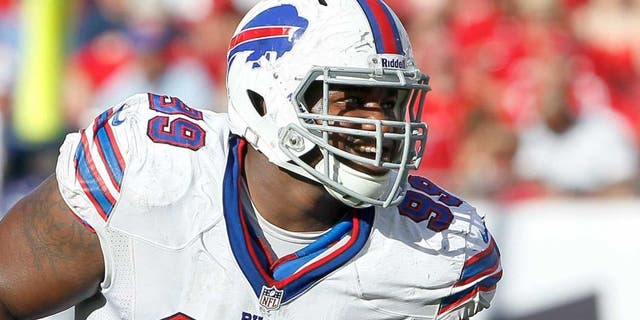 The Buffalo Bills have one of the best pass rushing defensive tackles in the NFL on their roster in Marcell Dareus. He's an integral part of their dominant defense, but how long he will be there is a huge question that must be answered in Buffalo.
Dareus is entering the final year of his contract, making him a free agent following this season. Of course, that's if the two sides can't come to a long-term contract agreement.
As of now, it doesn't seem likely, as Dareus wants to be paid like a top defensive tackle. He probably won't get Ndamukong Suh-type money, but he'd like something close.
The Bills have reportedly offered Dareus a contract in the range of six years, $90 million, but Dareus was unhappy with it. In fact, he feels as though the Bills don't want him in Buffalo.
"We all know how I feel. We all know how the team feels," Dareus said to Tyler Dunne of the Buffalo News. "I want to be a part of the Buffalo Bills. I want to be a part of the history we're going to make here. But at the same time, it's a business and we have to go through negotiations just like anybody else in any other career. So we just try to do what we can and move forward."
After implying that he wants to be paid like Suh, Dareus took a step back. He's no longer in the business of demanding money, he just wants to be paid what he believes he's worth.
"I just want to be treated right," he said. "Just like everyone else."
If the Bills can't come to terms with Dareus, there's always the chance that they could franchise tag him. That would keep him around for one more season, giving the two sides more time to negotiate a contract. If Dareus is tagged next year, he'd be willing to sign the tender.
"If that's something they consider, there's not really much I can do," he said. "I'll sign the paper."
The contract situation has been hanging over Dareus' head all offseason, but he's positive it won't impact his All-Pro-caliber play.
"I love this game," Dareus said. "I love beating people into the ground. That's just my thing. I'm not going to let it bother me at all."
(h/t Buffalo News)