Bill Polian says Peyton Manning has fallen prey to a 'smear' campaign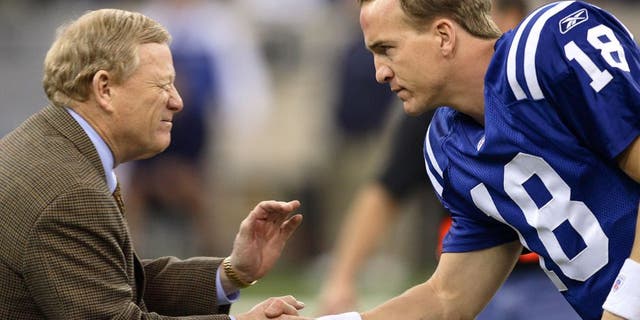 There's one man who is firmly in Peyton Manning's corner: the man who drafted him, Bill Polian.
The Denver Broncos quarterback, fresh off a win in Super Bowl 50, has been in the news in the days since the big win. His name has come up in connection with a lawsuit filed against the University of Tennessee that brings up an alleged incident that Manning had with a woman athletic trainer 20 years ago.
Polian isn't buying what's being sold.
"This was apparently -- I say apparently -- an incident that was the subject of a defamation suit that the so-called or alleged victim brought against Peyton and Archie after they wrote a book -- which, by the way, I have not read," Polian said during an interview on the "Freddie Coleman Show" on ESPN Radio. "All I can tell you is everything we heard from people at the University of Tennessee was absolutely glowing."
Polian was the general manager of the Indianapolis Colts when they selected Manning with the No. 1 overall pick of the 1998 NFL Draft. And Polian blames the non-mainstream media for giving this story legs.
"The document that has been referred to on numerous blog sites that I've seen (only one in the mainstream media that I've seen), is a 74-page document written by the lawyers of a young lady who sued Peyton and his dad, Archie, for defamation," Polian said. "I am not aware of how that suit was settled or what the outcome of the suit was, and I haven't read anything about that.
"But this is a document that was an advocacy document, allegations, if you will, that were made by the person's lawyer 13 years ago about an incident that took place 20 years ago and has now surfaced obviously at the behest of that lawyer or his client when Peyton is in the news and arguably receiving lots and lots of positive press.
"That document is parsed by people, excerpted by people, and they weigh in on it. That to me fits the definition of a smear. And that's what it is, plain and simple. It doesn't deserve any more notice than any other smear that someone would make."
Well, there you go. Peyton, it appears Mr. Polian is firmly in your corner.
(H/T to Larry Brown Sports)