Bill Belichick's 2017 draft showed, again, that he's the smartest man in football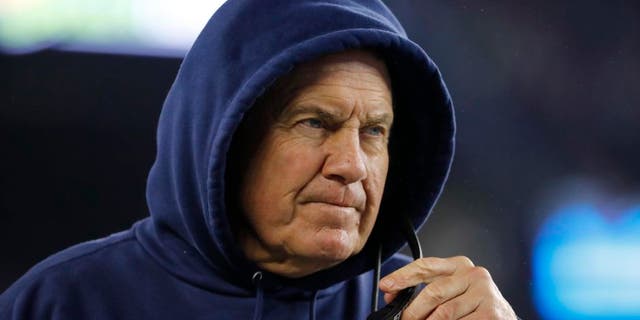 The New England Patriots used the 32nd pick in the 2017 NFL Draft to pick up a shifty wide receiver with excellent deep speed and inside-or-out ability. This receiver has the potential to catch 75 passes and 10 touchdowns in his first year in Tom Brady's offense.
With their second-round pick, the Patriots landed a three-down defensive lineman who is solid both stopping the run and rushing the passer, with the size and ability to slide toward the ball on third downs New England expects five or six sacks and a couple of forced fumbles in his first season as a Patriot, but it'shoping they tap into his talent to get even more than that.
With their fourth-round pick, the Patriots landed a tight end who can immediately step in and replace the departed Martellus Bennett. They're expecting at least 30 catches, a few touchdowns and solid blocking from this pick-up, but the biggest thing he'll provide is the desired personnel flexibility that comes from having two pass-catching tight ends that aren't liabilities in protection.
And with their fifth-round pick, the Patriots picked up a big, bruising running back who will in all likelihood be LeGarrett Blount's replacement.
Oh, and the Patriots used some draft picks to select some solid college players, too.
As soon as the 2017 NFL Draft ended, there was a mad rush to declare who won and who lost over the seven rounds. We hyper-analyze the values of picks, we spend hours discussing scheme fits, and we debate steals and reaches all to find out who won the draft.
The massive flaw in this, of course, is that none of the 253 players selected last week hasever played in the NFL so no one knowswhether any one of them will be any good.
It's all an educated (hopefully …) guess.
Bill Belichick isn't a fan of guessing.
The Patriots moved five picks in the 2017 draft to land established NFL players. That first-round pick, No. 32, was traded for Brandin Cooks, the former Saints wideout; the second-round selection netted defensive lineman Kony Ealy from the Panthers (and a third-round pick); the fourth-round pick was sent to Indianapolis for tight end Dwayne Allen; a fifth-round pick was given to Buffalo in exchange for restricted free-agent running back Mike Gillislee, and another was traded to Kansas City depth tight end James O'Shaughnessy.
There's no guessing game with these new Patriots they're proven NFL commodities. And while they might not have the potential of some of the prospects selected in rounds one through seven, most teams are hoping praying that the college players they selected will match the level of the NFL players the Patriots acquired for their picks.
Every team is annually afforded at least seven draft picks seven opportunities to add players whocan make theirteam better. But contrary to popular belief, those free commodities don't have to be used to select college players come April.
So much of the draft conversation revolves around value, and Belichick's established tactic of trading down to acquire as many draft picks as possible has become the go-to move for teams looking to "win" the draft.
It's all a crapshoot, so get as many rolls of the dice as possible, right?
But winning the draft doesn't mean you'll win in September through January. It just meansthat people liked what you did before any of the players selected stepped on an NFL field.
The draft is an important part of building a championship team, no doubt, but the old adage is true: One in the hand is better than two in the bush.
Frankly, Belichick's tactics might not fit that adage he's getting one in the hand for one in the bush.
Where would Cooks have been selected if he werein the draft? If you knew truly knew that a draftable wide receiver was going to be able to stretch the field, catch 75 passes and score eight touchdowns a year, that guy wouldn't fall to No. 32.
If you knew that you could get a 25-year-old defensive end who was arguably the best player in the Super Bowl, you'd pick him No. 1 overall, right? Talk about great value in the second round …
And in the fourth round, you would look like a genius if you drafted a player whoeventually had the career of Dwayne Allen so what does it mean if you use that fourth-round pick to land Dwayne Allen?
Even if you get only one year of NFL production out of each of the five NFL players New England acquired, that's one more guaranteed year than you'll get from any draft pick the vast majority of whomwon't see the field from the start of the NFL season.
NFL fans even executives have wondered how Belichick has masterminded what is arguably the greatest dynasty in professional football history. Yes, he has Tom Brady, but how does he stay at the top every single year?
It's because he maximizes potential both on the field and in personnel decisions.
When you give him an asset, more often than not, he's going to get more value out of it than anyone else. And when you give him seven draft picks, he's going to turn it into five proven NFL players and four worthwhile, high-upside prospects.
Talk about winning a draft.
Patrick Gorski-USA TODAY Sports | Patrick Gorski