Bill Belichick keen on stopping Colts' Frank Gore, Andre Johnson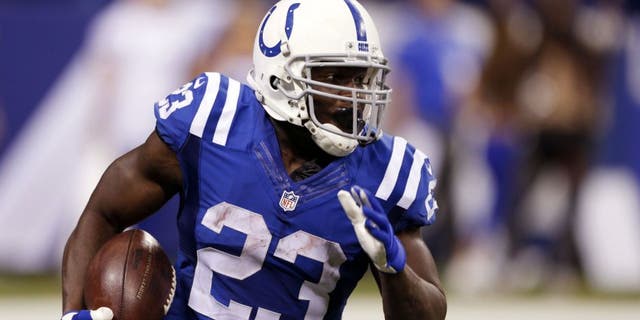 NEWYou can now listen to Fox News articles!
When the New England Patriots take the field against the Indianapolis Colts on Sunday night, they'll be focused on two savvy veterans. Andrew Luck and T.Y. Hilton are two of the team's biggest playmakers on offense, but Bill Belichick wants to make sure Frank Gore and Andre Johnson don't break loose.
"I think that Gore's really looked good," Belichick told reporters Tuesday. "There are a lot of great examples of him running the ball downhill, breaking tackles and getting positive plays. Johnson had a big game last week against Houston, but both those guys, it looks like they are still productive, and we're going to have to deal with the size and physicality and experience of both of them."
Gore and Johnson haven't had the best seasons thus far, but there's no doubting their ability to make an impact. Gore has averaged 4.3 yards per carry this season, while Johnson has just 128 yards receiving in five games. However, Johnson burned the Houston Texans for six catches, 77 yards, and two touchdowns in Week 5.
The Patriots are likely to face Luck this week rather than Matt Hasselbeck, who's started the past two games for the Colts. Belichick understands that it could have an impact on how often Johnson and Gore get the ball, but he's preparing for everything possible.
"It's always hard to tell what somebody else's game plan is," Belichick said. "Something is working, and they were getting the ball to Johnson, you keep doing it. How much of that was Hasselbeck related, game plan related, or just how the game unfolded? I'm not sure, but we have to be ready for all of them, and those two guys are certainly two players I personally have a lot of respect for, the kind of careers that they've had, but they're playing very well now and we're going to have to do a good job to control them."
Sunday's matchup has huge implications, not only for this season, but from last season as well. It was the AFC Championship game against the Colts that started the Deflategate saga, and it's the first meeting between the two teams since then.
MORE NEWS: Want stories delivered to you? Sign up for our NFL newsletters.