Big Ten NFL Combine top performers from the last 10 years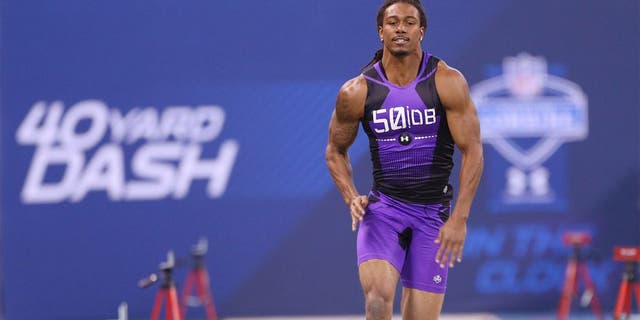 With the NFL Scouting Combine coming up this week, football scouts, coaches and fans will get a chance to see which NFL draft prospects are biggest, fastest and strongest.
Before the 2016 version, we thought it would be a good time to look back at which Big Ten players have had the best showings in four marquee events at the Combine in the past 10 years.
Note one: The number of "top performers" in each category each year varied, so a few of the better performances could have slipped through the cracks depending on the competition in a given year, but that's OK because this is not a comprehensive list. We're just looking at the best of the best.
Note two: To begin with, we're counting only Maryland, Nebraska and Rutgers players who who actually played in the Big Ten. Then we'll talk about who was left out as a result.
Top Big Ten 40-yard dash: Justin King and Trae Waynes
A cornerback from Penn State, King ran a 4.31-second 40-yard dash at the 2008 Combine. That he posted a great time probably wasn't a big surprise since he was a highly regarded prospect from Western Pennsylvania coming out of high school who played early and often in Happy Valley.
His 40-yard time would have tied Connecticut cornerback Tyvon Branch as the fastest that year if not for a historic run by East Carolina running back Chris Johnson (4.24).
The Rams took King in the fourth round with the 101st overall pick, but his speed thus far hasn't translated into a great NFL career. He appeared in 38 games with the Rams and Colts, the most recent being in 2012.
Waynes, a Michigan State cornerback, matched King's time at last year's Combine.
Waynes was just a three-star recruit coming out of Kenosha, Wisc. He was a two-year starter and a first-team All-Big Ten selection before going pro early. The Vikings took him with the 11th overall pick last spring, and he played in 15 games with one start as a rookie.
Other notables: Indiana comeback Tracy Porter, Penn State receiver Deon Butler, Michigan cornerback Leon Hall, Illinois receiver A.J. Jenkins and Ohio State cornerback Bradley Roby all posted sub.-4.4 times as well.
Best Big Ten bench press: David Molk
A center from Michigan, Molk put up 41 reps in 2012, second-best among players that year behind Memphis defensive tackle Dontari Poe.
Molk had a decorated career at Michigan, where he was a two-time All-Big Ten selection. He won the Rimington Award as the nation's best center in 2011 and was also named the Big Ten Offensive Lineman of the Year, but he went to the Combine with something to prove because of concerns about his size (6-foot, 298).
He was taken in the seventh round by the Chargers with the 226th overall pick. He played 12 games for the Chargers and spent the last two seasons with the Eagles.
Other notables: Molk is the only Big Ten player to break the 40-rep mark in the bench press over the past 10 years. Four players put up 37 reps, including two more Wolverines -- offensive tackle Jake Long in 2008 and defensive tackle Terrance Taylor in 2009. Ohio State defensive end/linebacker Vernon Gholston had 37 reps in 2008 and went on to be one of the biggest busts in draft history when the Jets took him in the top 10 that spring.
Top Big Ten vertical jump: Donald Washington
A cornerback from Ohio State, Washington wowed observers with a 45-inch vertical at the Combine in 2009.
That was not only the best mark that year but tied for the top jump in the past 10.
It was No. 1 alone until Georgia receiver Chris Conley matched it at last year's Combine.
The next-best jump by a Big Ten player in the past 10 years came from Ameer Abdullah. The Nebraska running back jumped 42.5 inches last year.
Other notables: Ohio State linebacker Ryan Shazier, Nebraska cornerback Stanley Jean-Baptiste, Nebraska receiver Kenny Bell, Penn State defensive back Chris Harrell, Indiana receiver Terrance Turner and Minnesota linebacker Simoni Lawrence are the other Big Ten alumni to jump 41 inches or better since 2006.
Top Big Ten broad jump: Donald Washington
The former Buckeye also had the best broad jump in 2009 at 11 feet, three inches.
He went to Indianapolis (his hometown) needing a big performance after a somewhat surprising decision to skip his senior season despite not being one of the bigger-named Buckeyes the previous fall.
His standout Combine performance likely played a role in his being selected in the fourth round by the Chiefs with the 102nd overall pick.
Washington ended up spending three seasons in Kansas City and playing 32 games, including five starts. He logged 52 tackles and broke up two passes without an interception. He spent the past two seasons in the CFL.
Other notables: Ohio State players posted the three best broad jumps at the Combine by Big Ten players in the past 10 years with linebacker A.J. Hawk checking in No. 2 at 11-1 and safety Donte Whitner logging 11 feet even in 2006. Next are a pair of players from Purdue who both posted 10-11 jumps -- defensive back Bernard Pollard in 2006 and tight end Dustin Keller in '08.
Other notes:
One player showed up among the top performers in three areas -- Nebraska receiver Kenny Bell. He ran a 4.42-second 40-yard dash with a 41.5-inch vertical and a broad jump of 10-9 last year.
Ohio State had the most players show up at least once over the past 10 years with 14 while Michigan had six and Penn State had five.
Michigan State had three, including two last year (Waynes and running back Jeremy Langford).
If Maryland, Rutgers and Nebraska had been in the Big Ten all along, a few things would look different.
Nebraska would be second in Combine standouts with nine, but five were before the Cornhuskers moved to the Big Ten.
Maryland would be third in Combine standouts with eight, though the most recent came in 2011 with Da'Rel Scott's 4.34-second 40-yard dash and Torrey Smith's 41-inch vertical.
Rutgers would be tied for fourth, having produced six standouts in the past 10 years but none since Mark Harrison's 10-9 broad jump in 2013.
Darrius Heyward-Bey (Maryland, 2009) would have had the best 40-yard dash at 4.3 seconds.
We would also find another three-way standout in Rutgers receiver Tiquan Underwood (4.42 in the 40, 41.5-inch vertical, 10-9 broad jump).
Since 2006, Nebraska placed four players on the 40-yard dash top performers list, but Bell is the only one since the Cornhuskers joined the Big Ten.