Big Picture: Myles Garrett's destruction of ASU was Clowney-esque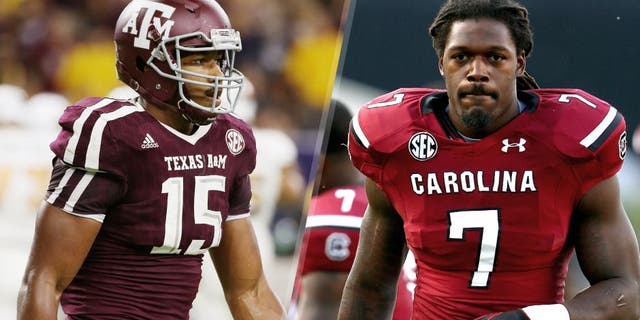 There have been quite a few D-line Freaks over the past decade or so in college football. The biggest of them all was former South Carolina star Jadeveon Clowney, who seemed to be able to take over a game just about whenever he wanted to. Trouble was, for Gamecock fans, it didn't appear that he always wanted to.
Texas A&M sophomore Myles Garrett is probably the closest thing we've seen to Clowney in terms of just jaw-dropping explosiveness and athleticism from a defensive lineman. Garrett arrived in College Station with almost as much recruiting hype as Clowney did when he arrived at South Carolina. Last fall, Garrett even broke Clowney's SEC freshman sack record with 11.5. It was a strong debut for the young Texan, albeit on a really shaky defense.
This offseason, veteran Aggie defensive ends coach Terry Price -- himself a former Aggie D-line standout -- challenged Garrett on two fronts. The first: to play hard on every snap. The second: to become a leader.
"What a difference a year makes," Price told FOX Sports Sunday morning. "He didn't really do it on every snap last year. I'm really proud of the way he played (Saturday night). He's really accepted the challenge."
It sure looked like it from watching the way Garrett destroyed the Arizona State offense.
Garrett was unblockable. He had two sacks, 2.5 TFLs, a forced fumble and three QB hurries. He also forced one holding flag. More importantly, he often drew double-teams, and on at least a couple of occasions he drew triple-teams. His relentless presence and ridiculous get-off, repeatedly looking like he jumped the snap count, kept ASU's strong-armed QB Mike Bercovici off balance and also enabled fellow A&M DE Daeshon Hall to notch four sacks on the night.
Garrett isn't quite as big or long as Clowney, but at 6-foot-5, 262 pounds, he's a powerhouse. He can do a chain bench press with 430 pounds. This offseason, he was clocked the mid-4.4s in the 40. He has also vertical-jumped 39 inches and broad-jumped 10-9½. Perhaps scarier still is that Garrett won't turn 20 till Dec. 29.
It's one thing not to loaf on plays. It's another thing to try to match the effort of a J.J. Watt or a Ray Lewis. That's what it looked like was inside of Garrett on Saturday night -- like he was trying to make something big happen on every snap.
Hall's development is another key for what's shaping up to be a very scary defense under new DC John Chavis and his more simplified, more aggressive scheme. Three years ago, the Aggies made a late push for Hall. The A&M staff got intrigued by his potential after watching Chavis' lanky, fast edge-rushers. They saw the 6-foot-6 Hall as someone in that mold. He arrived in College Station at 220 pounds and has battled through some injuries. He's had two shoulder surgeries that hampered his development, but this offseason he's blossomed and is now a sturdy 260 pounds and is ready to be a force in "the grown man league," which is what Price calls the SEC.
With Garrett primed for a breakout season, it looks like the A&M Wrecking Crew is finally back.
RANDOM STUFF
Living up to the hype Josh Rosen had (and yes we're guilty of some of that hype stemming from chronicling his story in "The QB") was not going to be easy for the Bruin true freshman QB. But if it was possible to exceed it, the 6-4, 210-pound 18 year-old did just that Saturday by completing 28 of 35 passes for 351 yards and three touchdowns against Virginia.
UVA is hardly a powerhouse these days, but the Cavaliers have some good talent on defense and are no cupcake for a young quarterback.
"(John) Tenuta's a really good defensive coordinator," Bruins OC Noel Mazzone told FOX Sports Sunday afternoon. "He always gives people problems. It was a nice little start for Josh, and that's as good as our line has played since I've been here."
Virginia's Tenuta sent a bunch of five- and occasionally six-man pressure at Rosen and also schemed to take Bruins standout RB Paul Perkins out of the game, but Rosen had little trouble carving up the Cavs. Mazzone chuckled at the advanced feedback he was getting in between series when the kid QB came back to the sidelines.
"I was like, 'Really, you saw that?'" Mazzone said. In one particular instance Rosen had IDed a different look he was shown and made a high-level read as he explained to his coach why he opted for one receiver over a shorter throw. "He processes super fast. He wants to snap the ball fast and go.
"Josh just has got a great wide vision of the game. He sees everything that is going on."
Now, comes the trickier part. Dealing with the next wave of hype. After all, college football isn't always going to look so easy for him. It's all new for me, too," conceded the 58-year-old Mazzone.
The morning after, Rosen was handling it just fine.
"He seemed pretty grounded today at the meetings," the coach said, adding that "his O-line loves the guy. He has such great movement in the pocket, sliding around. They always know where he is."
AGGIES' FROSH STAR
Rosen wasn't the only true freshman who had a spectacular debut. Texas A&M WR/PR Christian Kirk was the most dynamic offensive weapon in the game between the dynamic Aggies and Sun Devil offense. The 5-11, 195-pounder scored on a 79-yard punt return and a 66-yard screen pass.
Kirk has created a lot of buzz inside the Aggies program dating pretty much back to the time he arrived in College Station in time for spring ball. "He's special in how he approaches the game," Aggies OC Jake Spavital told Fox Sports Sunday morning.
"You don't want to put too much pressure on him yet, but to be a true freshman in that environment, against a top-15 team, which happens to be the team from his old hometown and to rise to the occasion like that was pretty special."
One added note on the Aggies. It was at this point last year, where they were the talk of college football after going in to face a touted South Carolina team on national TV and blew the Gamecocks out. They soared in the rankings and then got into October and dropped three in row with all coming by at least two TDs.
"We know we gotta keep these kids from being complacent like they got last year," Spavital said, adding that Saturday night's win was a good sign because the defense picked up the offense when that unit was struggling. The end result was a 38-17 Aggie romp.
RUNNING TIDE
Beware Derrick Henry and the Alabama running game. Despite facing overloaded boxes, 'Bama still ran all over the Wisconsin D. Keep in mind that the Badgers held the LSU running game in the first half last season to just 16 yards on 15 carries. The Tide offense, though, mauled the Badgers. The O-line, led by center Ryan Kelly, opened gaps and Henry roared through them, rumbling for 147 yards and three TDs on just 13 carries. More impressive is the fact that Henry did all his damage in a little more than three quarters and wasn't in the game in the fourth quarter -- where he likely would've been at his most dangerous. The Tide's top two backs, Henry and Kenyan Drake, combined for 224 yards on 23 carries, going for almost 10 yards a pop against a very good run defense. That is very impressive.
Word is, the speedy 6-3, 245-pound Henry -- who has always been a jaw-dropping athlete -- has really blossomed this offseason in terms of his understanding of blocking schemes and the Tide's offense. Don't be surprised if Saturday night is just a taste of what figures to be a huge year for the huge tailback.
OVERREACTION ALERT
No conference had a more dismal opening week than the Pac-12. Yeah, Rosen and the Bruins looked excellent, as did USC and Oregon, but Colorado lost at Hawaii on opening night, then Washington lost at Boise on Friday. Saturday, though, was much worse. Stanford was listless, failing to score a TD at Northwestern in an ugly loss. Wazzu, a 31-point favorite, fell on its face, losing to FCS opponent Portland State. And ASU, many people's pick to make the playoff, lost by three TDs to an unranked Texas A&M team. But as we (hopefully) were reminded last year at this time when the Big Ten had an even more brutal early season lost weekend, it's not wise to completely write off an entire league. UCLA, as I wrote on Saturday, looks like a viable playoff contender, but now there's even more weight on next weekend's huge Oregon-Michigan State game.
EYES ON THE IRISH
Bad news for Notre Dame on Sunday morning with leading rusher Tarean Folston being lost of the season to a knee injury. Word is, Folston had looked really sharp in the last few weeks of camp. (The Irish had already lost backup RB Greg Bryant for the year to academics.) Now, the pressure goes to converted WR C.J. Prosise, a 225-pounder who is one of the fastest players on the Notre Dame team. Prosise runs hard, is a terrific receiver out of the backfield and looked good running for almost 100 yards on Texas. Behind him is impressive freshman Josh Adams, who is big, smart, very mature and runs with a really good body lean. The third back now is more of a change-of-pace guy, Dexter Williams, a shifty 200-pound freshman from Florida. If ND suffered more attrition in the backfield, the next option might be slot receiver Amir Carlisle.
On the bright side, QB Malik Zaire looked good against Texas; the ND receiving corps led by speedster Will Fuller is excellent, and so is the Irish O-line.
● One other subplot of Stanford's ugly debut was the potential impact a clunker season for the Cardinal could have on Notre Dame. The Irish have legit playoff hopes, but could be hindered since ND doesn't have a conference title game to boost its resume. A week ago, it seemed like the Irish had four big tests on their schedule: home against Ga. Tech; at Clemson; home vs. USC; and at Stanford. Now, it seems like ND may have only three eye-catching games unless David Shaw's team gets things sorted out in a hurry.
MOUNTAINEER METTLE
Lost in the luster of the Aggies' performance Saturday night was a sterling effort by West Virginia's D in bottling up a very potent Ga. Southern attack, 44-0. Last season, the Eagles ran for 380 yards a game (tops in the FBS) and were No. 10 in the country in scoring at 39 ppg. One of the best coaching performances of Week One goes to WVU DC Tony Gibson.
Matt Breida managed just 70 yards on 17 carries as the Eagles gained 195 yards but needed 57 carries for a modest 3.4 yard average. More impressively was that their longest rush was for 22 yards. Overall, Southern had only 224 yards of offense.
"There was six months of stress in that one," Gibson told FOX Sports on Sunday morning. "Our boys played their butts off."
Ga. Southern's option attack out of the shotgun with a zone scheme is a big headache for rival coaches because, as Gibson explained, unlike when you face a triple option attack from under center, you don't really know where the big plays will hit from. So playing assignment football is even more critical than normal.
"Against this, your linebackers and safeties had to be really sound in their assignments because the big problem with the option is you can get your eyes in the wrong place and not securing their gaps," he said.
WVU also limited Ga. Southern to just two completed passes, one fewer grab than WVU safety Karl Joseph's three INTs. All three of Joseph's picks came in the same quarter, and he also had a fourth turnover on a fumble recovery to go with eight tackles; a few of those tackles saved possible long touchdown runs.
"In 21 years of coaching, I've never had a kid account for four turnovers," Gibson said, adding that Joseph's role against this attack was pivotal.
"I kept stressing to him for the whole month: 'Just do your job,' and he was in perfect position, especially on those picks. The guy is just a film rat. He studies so much film, understands it and knows where they want to attack. The misnomer on him is that he's just a hitter, but he really is so much more than that. He has such instincts and a great feel for the game. He's a kid that just gets it. I can't remember one time him not being in the right place last night."
Head coach Dana Holgorsen, who has never awarded a game ball in his time as a coach, had a first after the Ga. Southern win, giving Joseph the honor.
● Speaking of the Mountaineers, the program has emerged as "a place for wide receivers." Holgorsen coached a bunch of other future NFL wideouts, helping Tavon Austin, Stedman Bailey and Kevin White to huge careers at WVU. And he has two new studs ripe for stardom.
Freshman Jovon Durante had three catches for 121 yards and fellow blazer Shelton Gibson, a sophomore, had three for 130. The 6-1, 180-pound Durante has folks inside the WVU program gushing.
"He's as good as any freshmen I've ever been around," said Gibson, whose defense has to try to deal with the Miami native every day in practice. He's so explosive, and the way he can run and jump and maneuver his body is really special."
BIG NIGHTS FOR BYU, TEMPLE
Sad to see BYU star QB Taysom Hill is out for the season again with another injury. He's a fantastic player. However, the Cougars have an intriguing new QB in freshman Tanner Mangum, who triggered BYU's stunning Hail-Mary win at Nebraska.
Mangum has quite the pedigree, and he's no kid. The 22-year-old spent two years in Chile on a mission and another season gray-shirting after a terrific high school career. The Idaho native had turned heads at the Elite 11 four summers ago when he won co-MVP honors with classmate Jameis Winston.
Mangum returned from his mission June 3 and was so far off the radar from the view of American football that he didn't even know that Winston had gone on to become the first pick of last spring's NFL draft.
"I was pretty isolated," he told FOX Sports on Sunday morning.
● Hats off to Temple. Matt Rhule's team upset Penn State by notching 10 sacks and holding Daesean Hamilton -- the Nittany Lions' leading receiver, with 82 catches in 2014 -- to just one grab for a measly five yards. More importantly, the Owls hindered Christian Hackenberg into an 11-for-25 day for just 103 yards. Tyler Matakevich, Temple's underrated star LB, had three sacks Saturday.
STAT OF THE DAY
Rutgers, which has become the poster child for dysfunctional athletic departments, hammered woeful Norfolk State again. And, as we mentioned a month or so ago, RU has a putrid nonconference schedule. Just how awful is it? The Scarlet Knights' other three non-conference opponents -- Washington State, Kansas and Army -- all lost to FCS opponents.