Big Ben helps young Steelers fan root against his dad in Cincinnati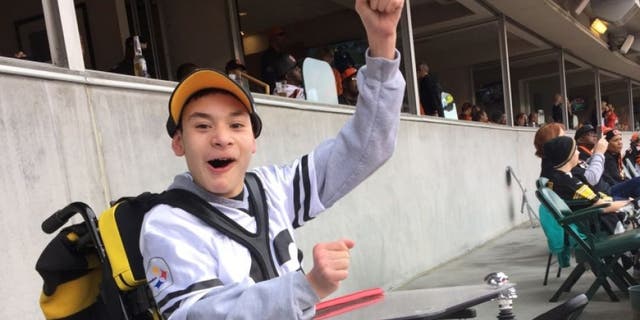 NEWYou can now listen to Fox News articles!
When it comes to sports, a diehard fan's worst nightmare is to have his or her child become a fan of a rival team. When your son is being egged on by the rival team's star quarterback, it can only add to the heartbreak.
Trevor Bentley of Oxford, Ohio is living the nightmare in the present, with the showdown between his Cincinnati Bengals and 13-year-old son Alex's Pittsburgh Steelers just a day away. So how did it all happen?
"In third grade, his teacher used to wear Steelers ties and sweaters and talk trash about the Bengals," Bentley told FOXSports.com. "He eventually convinced my son at an impressionable age that they were a better team. So for the last six or seven years, it's never changed no matter how much ribbing he gets in the Jungle [Paul Brown Stadium]."
The Bentleys hometown of Oxford, Ohio also might have had something to do with it, since it is also home to Miami of Ohio University, also known as the alma mater of Steelers quarterback Ben Roethlisberger.
"My wife and I lived in Oxford for a long time and he connected with Ben going to college and playing football in his backyard, literally. Our house was just above RedHawks field and this is why he is his second favorite Steeler!"
As demonstrated in this video filmed back in 2011, retired Steelers safety Troy Polamalu was Alex's No. 1 Steeler, as he was brought to tears when presented a Polamalu jersey for his birthday present.
That may have changed after Roethlisberger's latest gesture. As if Trevor's heart wasn't broken enough by his son's loyalties, Roethlisberger decided to twist the knife a little more with a gift to Alex. He sent Alex a signed, game-worn cleat after receiving this video from Trevor showing Alex overcome with joy when he was surprised with tickets from a family friend to the Steelers-Bengals game back in Week 14.
From Ben Roethlisberger's official website:
Roethlisberger's gesture may have won over Alex even more, but nothing is breaking Trevor Bentley's rooting interests despite his thankful note to the Roethlisberger camp. Come Saturday, he'll be cheering on his Bengals in hopes they can win their first playoff game since 1991.