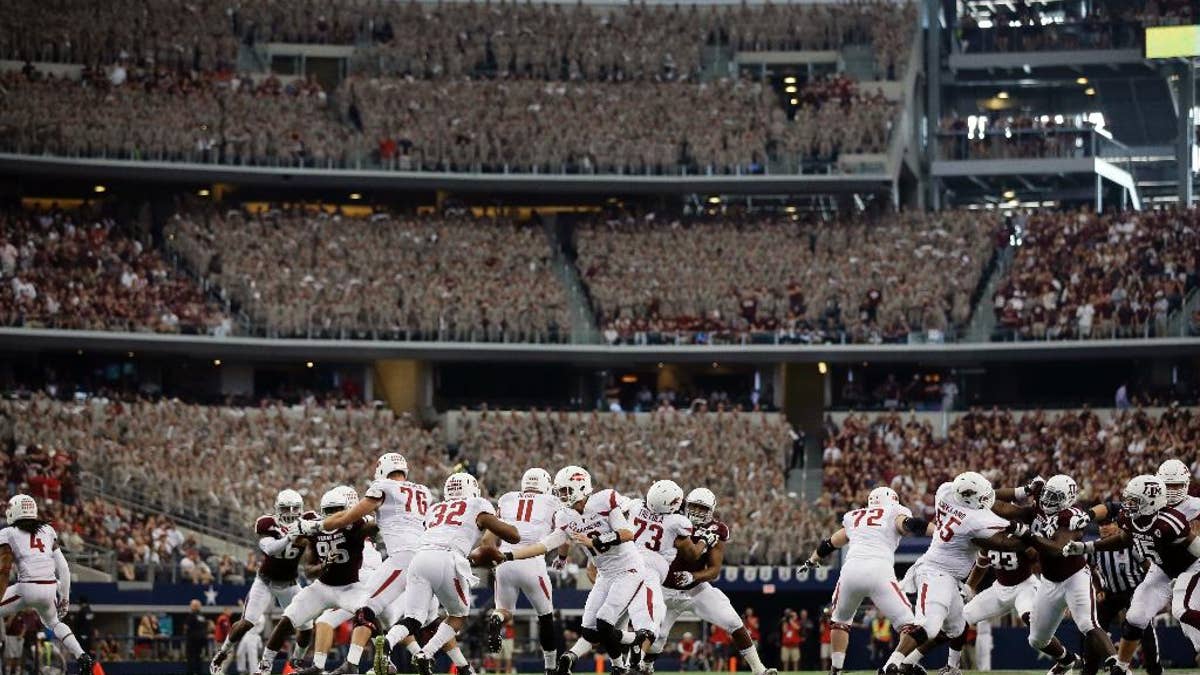 FAYETTEVILLE, Ark. – Bret Bielema isn't sure if last year's Arkansas team could have bounced back emotionally from a disheartening overtime loss to Texas A&M.
The second-year coach, however, has little doubt this year's resurgent version of the Razorbacks will recover and rebound — particularly with the benefit of a bye this week.
Arkansas (3-2, 0-2 Southeastern Conference) lost its 14th straight conference game last week, doing so after leading by 14 points early in the fourth quarter against the No. 6 Aggies. Several untimely penalties by the Razorbacks — as well as a missed field goal attempt in the closing minutes — ultimately led to overtime. Once there, Texas A&M quickly scored and stopped Arkansas running back Alex Collins on fourth-and-1 to secure the 35-28 win.
Bielema said Tuesday he expects the Razorbacks to bounce back next week when they host No. 3 Alabama — unlike last year when the school lost nine straight games to end the season.
"I don't know if a year ago, even though we would get them back and they would play hard, I don't know if they expected to win those things," Bielema said. "Now there is that expectation. I know how our guys are thinking. I am hoping and praying they are going to keep that faith because we will obviously need everything for Alabama next week."
Led by a combined 226 yards rushing from Collins and Jonathan Williams, the Razorbacks controlled much of the game against the Aggies — finishing with 285 yards rushing on 47 carries. They appeared on the way to taking a 35-14 lead early in the fourth quarter, but Williams' remarkable 55-yard run through the heart of the Texas A&M defense was called back because of a tripping penalty on Arkansas left tackle Dan Skipper.
Even with the penalty, one of eight that cost the Razorbacks 76 yards, Arkansas still had a chance to take a 10-point lead in the closing minutes. However, senior kicker John Henson was wide left on a 44-yard field goal try with 2:29 remaining.
The Aggies tied it 28-28 two plays later.
Bielema said the field goal kicking position is again open after Henson earned the job with a strong preseason camp. The senior, who replaced the graduated Zach Hocker, is 2 of 4 on field goals this season and will face competition from freshman Cole Hedlund and sophomore Adam McFain.
Regardless of the uncertainty at kicker and the difficult loss, Bielema said he has been pleased with the feedback about how Arkansas has performed this season.
The Razorbacks lead the SEC in rushing with an average of 316.6 yards per game on the ground, and Bielema's physical approach has shown the team can compete with the up-tempo offensive style used by many teams across the country.
"It's very hard to get people to believe in something that they haven't seen," Bielema said. "When we hadn't been able to do it against efficient competition, I think it gave a lot of people reason to doubt. But now, I have seen it work for a number of years, and I will see it work here, and it will work very, very well.
"You're just beginning to scratch the surface of what we'll be."