Beyonce and Jay Z went nuts while watching Serena Williams win Wimbledon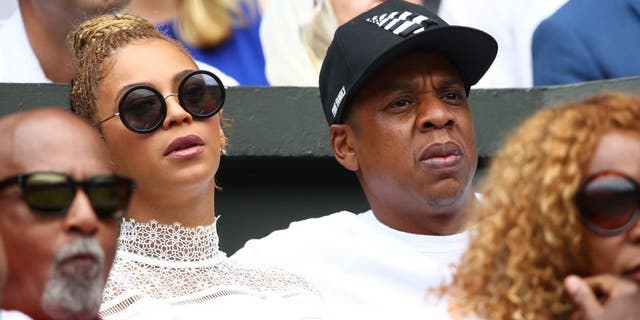 NEWYou can now listen to Fox News articles!
Well, not in the picture above. That's how you look when you know the prying eyes of the cameras are upon you and you must keep your regal nature while exuding an ambiguousness about your marriage that's all for show. No, Beyonce and Jay Z waited until the end of the match to look like, well, normal people and fans. After Serena won the final point of her match against Angelique Kerber to take her seventh Wimbledon and record-tying 22nd Grand Slam, Beyonce sat still an raised her arm in celebration, while Jay Z popped up to clap along with the rest of the box. (Also, Jay has something in his hands. I'd love it if he'd hit the Wimbledon gift shop to get a towel for Blue Ivy.)
It's only fitting the most famous tennis player in the world would have the most famous musicians rooting her own from her player's box. (Not gonna lie: It always seemed weird when Gavin Rossdale and Gwen Stefani would root on Roger Federer.) Serena, of course, was recently featured in Beyonce's video for Sorry, in which she basically twerked her way through a Victorian mansion while Queen Bey made allusions to Jay's philandering ways. It all makes sense when you see it. Or not.
Beyonce was in town for the UK portion of her Formation tour, with a stop later Saturday night in Dublin. It'd have been cool if Serena came out with her Wimbledon trophy during Sorry but Beyonce isn't Taylor Swift and, anyway, Serena still has some business to take care of at Wimbledon: She and sister Venus are playing in the doubles final early Saturday evening.