Bettman: Time running out on Coyotes sale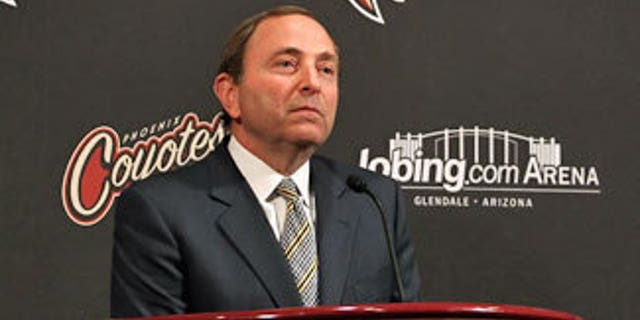 GLENDALE, Ariz. – With the sale of city of Glendale bonds frozen by the threat of a lawsuit by an Arizona-based watchdog group and the sale of the Phoenix Coyotes hanging in the balance, NHL Commissioner Gary Bettman said he remains committed to keeping the team in town. But Bettman said the clock is ticking down on the deadline for a resolution.
Bettman did not set a deadline for the deal to get done, but admitted "we're getting close to the end" and that if things weren't completed "promptly" the League would have no choice by to relocate the franchise after 16 years in Arizona.
"We're not yet done, we haven't given up and we're not giving up," Bettman said during a news conference at Jobing.com Arena before Tuesday's Canucks-Coyotes game. "For anyone suggesting we're not still committed to Glendale, you have not been following what we have done here for the last two years. Our commitment remains as strong as ever.
"But time is running out, and we're getting close to the end. I will not today say when the end is, and I will not today set a deadline. But at some point we may have no choice but to begin pursuing our other alternatives."
Winnipeg, the city that lost the franchise to Phoenix back in 1996, reportedly remains the most likely destination with an NHL-ready building and an offer in the table from well-funded investors. Bettman would not talk about any possible destination for the franchise, saying that remaining in Arizona is still the goal.
The watchdog group, the Goldwater Institute, maintains the deal between the city of Glendale and proposed owner Matthew Hulsizer is not legal and has made known its intentions to challenge any such agreement in court. That threat has made the sale of the municipal bonds needed to close the deal next to impossible.
"But for one thing, we'd be done," Bettman said. "There is a deal structure for Matt Hulsizer to buy the Coyotes from the League. There are arrangements from the city of Glendale to enable the Coyotes to live happily ever after in Jobing.com Arena, that would ensure the arena doesn't go dark and protect the future for people that have businesses and jobs at Westgate."
But the bonds remain untouched by investors.
"What is the problem?" asked Bettman. "The Goldwater Institute has placed a cloud on the bonds. They have threatened to challenge the legality of the Glendale-Hulsizer transaction and the bonds themselves. Based on what we have been told … the market for these bonds, solely because of the Goldwater threat, has been impacted.
"It has become clear to me that the Goldwater Institute can be very obstructionist. In light of its conduct in this matter, I question whether this is really an organization concerned with the public interest, despite a mission statement that calls for expanding free enterprise and support for the public interest. I don't know who the people there report to, or are accountable to, but it fascinates me they can actually substitute their judgment for that of the Glendale City Council by, in effect, overturning a duly enacted resolution of the city, enacted in public session."
Bettman said he met with Glendale Mayor Elaine Scruggs and other members of city government on Tuesday, along with Coyotes team officials. He said he requested a meeting with Goldwater Institute Chief Executive Officer Darcy Olsen, but "was told no -- but I could have a joint news conference."
Bettman called the open-meeting offer "indicative of the way (Goldwater) does business."
"This situation is far too serious for such game playing. The Glendale City Council met in open session … last time I checked, the Goldwater Institute didn't hold its board meeting in public session," Bettman said.
"I'm not sure that they even think they have a bona fide lawsuit. But the longer they can cloud the bond market … they get their way without having to test it in court."
Bettman said the city of Glendale has met with the Goldwater Institute on numerous occasions, and that the Institute's recent actions appear to be to be "a leverage play" more than anything else.
"Whether you think it's motivated because they think they have been insulted by the city or whether they just think they know better (is unclear)," Bettman said. "Without actually filing a lawsuit, Goldwater is managing to have its way simply by threatening. I'm not sure they even think they have a good lawsuit. We are told two independent law firms looked at this and said this transaction is legal under Arizona law."