Bettis picks up win in return from DL, rips first major-league hit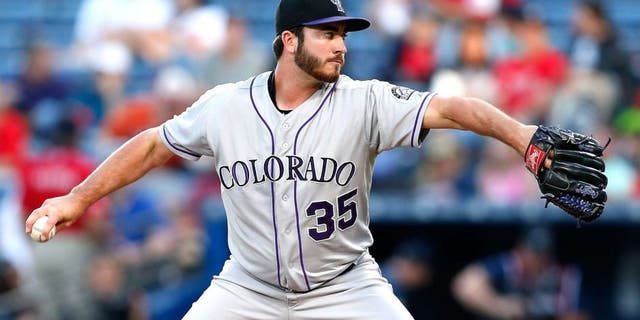 Chad Bettis returned to the Colorado Rockies in prime form on Tuesday, helping the team snap a four-game losing streak, and notching a personal first in the process.
In his first start since July after being placed on the disabled list with an injury to his throwing elbow, Bettis delivered a solid performance for the Rockies, surrendering five hits and one earned run while striking out four over five innings.
"He did a great job," manager Walt Weiss said of Bettis' performance in the Rockies' 5-1 win over the Atlanta Braves on Tuesday. "He looked like he did before we put him on the DL."
After throwing less than 70 pitches in his two recent rehab starts, the 26-year-old right-hander threw 88 pitches over five frames in his first major-league outing in six weeks.
"I wasn't going to let him go too long," Weiss said. "He labored through the fifth, got through it, but the fact he hadn't been out there for a while, that was about as long as I was going to let him go. He did a heck of a job."
Bettis had himself an all-around great day at the ballpark, as he also achieved a career first in the game.
Heading into his at-bat in the top of the second 0 for 34 in his career at the plate, Bettis ripped his first major-league hit, a line drive up the middle.
The man knows how to make a reentrance.