Bethe Correia: My mom told me to break Ronda Rousey's jaw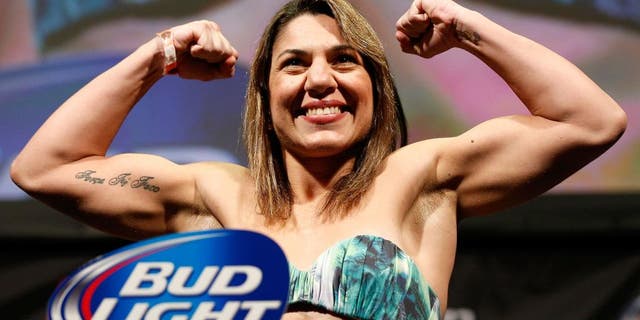 NEWYou can now listen to Fox News articles!
Undefeated bantamweight title challenger Bethe Correia is supposed to have a home game in Rio on Saturday at UFC 190, but so far the Brazilian fans have appeared to be more enamored with American champion Ronda Rousey. Still, Correia says she doesn't begrudge her fellow Brazilians for cheering for the "Rowdy" one.
At the end of the night, Correia believes that she'll be the new champion and that all of Brazil will be happy for her.
"I'm not angry at the Brazilian people," Correia told Guilherme Cruz during Thursday's UFC media day in Rio.
"They have the right to choose who they are rooting for, but I know they will be happy when I become champion. Brazil deserves a champion. It's normal that they are rooting for the American hero. Ronda has this image of being a hero, and Brazil attaches to that. I'm not mad."
Like Rousey, however, Correia will have the complete, partisan support of her mother. Ronda's Judo world champion mom AnnMaria DeMars has chastised her daughter for insinuating that she may let the fight go longer than needed in order to punish Correia.
Bethe understands where she was coming from, and says that her own mom gave her similar advice to end things quickly. "My mother told me the same thing," she said.
" 'Please, finish this fight in 10 seconds. Knock her out, break her jaw.' It's a mom thing. No mom wants to see a daughter get beat up, get hurt, and Ronda's mom thinks about it. It's easier to go for a takedown and lock an armbar, you don't get hurt. My mom wants me to go there, throw the first punch, Ronda goes down, and I go back to her arms. It's normal."
Normal for moms with such tough daughters, that is.