Benteke strike lifts Liverpool over lowly Sunderland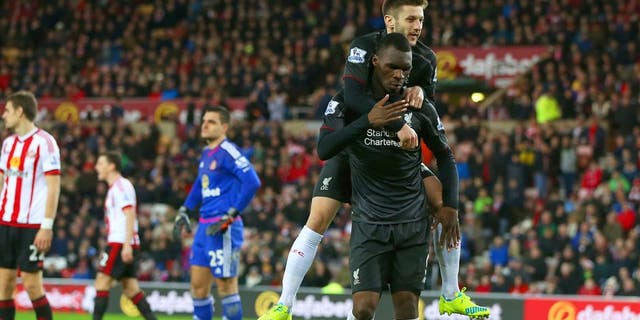 2015 went out with a whimper in England as Liverpool downed Sunderland 1-0 on the final day of Premier League football this calendar year. It was a sluggish and largely forgettable game showcasing two clubs heading in different directions. Yet another loss for the embattled Black Cats, the result left Sunderland mired deep in the drop zone with only 12 points from their 19 games.
On the evidence of the first half of the season Sunderland are going to find it nearly impossible to pick up the 28 points they need to avoid the drop. Manager Sam Allardyce has made a career of rescuing teams from the guillotine, but this very overpaid side seem to lack basic talent, and even with the winter transfer window set to open, it's hard to imagine he can find another 11 players this coming month.
Even against this erratic Liverpool side, Sunderland could not get out of their own way, coughing up a very soft goal just after the restart and showing no ability to get back into the game afterwards. Christian Benteke, who was invisible before and after scoring the winner, was allowed to ghost in behind Sebastian Coates right off the kickoff, and steered home a long diagonal from Nathaniel Clyne through the helpless Vito Mannone. That inexcusable lapse chucked what good work Sunderland had done in the first half out the window, and frankly let a sub-par Liverpool side walk away with the points.
"It's a lucky, lucky goal," Allardyce said. "Lallana tries to control it and it comes off his toe."
Jurgen Klopp, on the other hand, preferred to praise his striker.
"It's Christian Benteke time," Klopp said. "He has the nose for this, the skills."
Roberto Firmino was the best player on the field Wednesday night, firing one shot off the post in the first half and getting a top-class save out of Mannone on a bullet header to boot. But too many Liverpool players looked like they were simply going through the motions against a team they knew they were vastly superior to. A fair part of their lethargy just seemed to come from exhaustion after a hard-fought 1-0 win over Leicester earlier in the holiday program.
Chance for both side were sparse during a poor first half. Fabio Borini, a former Red, had Sunderland's best chance of the half in the 33rd minute, collecting the ball from Patrick van Aanholt and swiveling to fire through Dejan Lovren yet missing the far post. Firmino's fine take beat Mannone in the 26th only to come back off the post.
But after the restart, Sunderland coughed the ball up in the middle of the field, allowing Clyne to receive it out wide. With a single pass, Sunderland's abject defense was breached. The Black Cats never looked like getting back into the game from thereon in.
Liverpool bubbled up to 7th with the result, just off the prow of arch-rivals Manchester United. Level on points with the Red Devils, Liverpool's poor goal differential is the difference. Despite the win, Jurgen Klopp did not seem pleased with his team's performance; he certainly is going to need a far better show in his next series of games against West Ham, Stoke and Arsenal, with a trip to fourth-tier Exeter in the FA Cup in between.
As for Sunderland, they are likely to turn to football's equivalent of Craigslist as Allardyce desperately tries to shore up a poor back line, a porous midfield, and an ineffective attack. Wish him luck. He's going to need it.