Bengals owner Mike Brown never wanted to trade Carson Palmer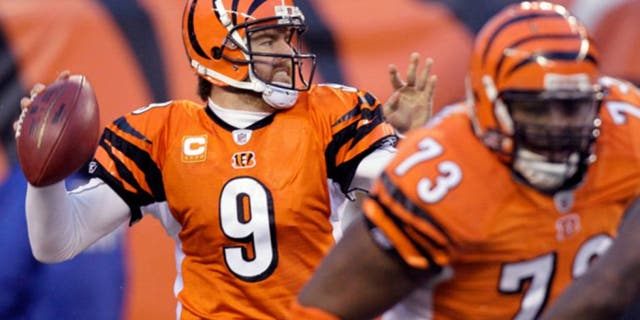 CINCINNATI -- Cincinnati Bengals owner and general manager Mike Brown was certain his team would be playing against Carson Palmer long after the star quarterback was traded away.
Brown, though, said Palmer expressed an opposite take in trying to talk his way out of Cincinnati.
In an exclusive interview with FOXSports.com, Brown said Tuesday that Palmer was concerned about his NFL longevity when seeking a trade prior to the 2011 season. Brown initially refused to deal Palmer, which prompted the latter to announce his retirement. Palmer, though, agreed to a comeback when traded at midseason to Oakland in exchange for first- and second-round draft picks.
"We sat here in the office on a couple of occasions and argued about what the future should be for him and us," Brown said. "Whether he really believed it or not I rather doubt. But my argument then with him was, 'You're a top quarterback and you've got real productive years in front of you.'
"He would say to me, 'Oh no. I'm all beat up. I'll be lucky to play another year or two,' which I didn't take to heart."
Brown was proven right. After rough season-and-half with the Raiders -- which included a 34-10 loss at Cincinnati in 2012 -- Palmer reinvented himself upon being traded to Arizona. Even at age 35, Palmer enters Sunday night's game against the visiting Bengals among the league leaders in passing yards (2,749), touchdowns (23) and quarterback rating (108.0).
Brown admits what transpired in 2011 has left him with an "odd feeling" for Palmer, who Cincinnati made the No. 1 overall pick in the 2003 draft. Palmer led the 2005 Bengals to the franchise's first playoff appearance in 15 years and back to the postseason again in 2009.
But after a 4-12 campaign in 2010, Palmer had grown increasingly frustrated with his lot in Cincinnati. Sensing that dissatisfaction, the Bengals selected Andy Dalton in the second round of the 2011 draft as a potential Palmer replacement. Dalton was thrust into the starting lineup as a rookie when Palmer didn't report to training camp and has remained there since.
Dalton has led Cincinnati to four consecutive playoff appearances, although the Bengals lost all four of their opening-round games. Dalton also has helped guide the 2015 Bengals (8-1) to the best start in franchise history.
The Cardinals (7-2) are flourishing as well with Palmer under center.
"I like Carson Palmer personally," Brown said. "I did when he was here. I regret it broke apart the way it did. I don't want him to beat us any more than he wants us to beat him. I'm sure that will be in the back of his mind. But other than that, I wish him well.
"He's a special passer, very accurate," Brown continued. "I look at him play and I see the player that we had when he was here. When he's on and playing the way he can play, he is a big-time winning quarterback."
Brown is hoping the Bengals can get back on the winning track after suffering their first loss of the season, 10-6, to visiting Houston on Monday night.
"When you lose a game it shakes your confidence, especially when you don't play as well as you think you should have played," Brown said. "The day after the loss, we've got to put it behind us and focus on the next game.
"Arizona is good. They're playing right now probably as well as anyone -- maybe New England and Arizona. They're ranked No. 1 offensively and No. 3 defensively. We have a real challenge in front of us."
That challenge starts with stopping Palmer from skewering his former team's defense.
More of Alex Marvez's exclusive one-on-one interview with Cincinnati Bengals owner and general manager Mike Brown will appear Wednesday on FOXSports.com.