Bengals offense clicks in second practice with Giants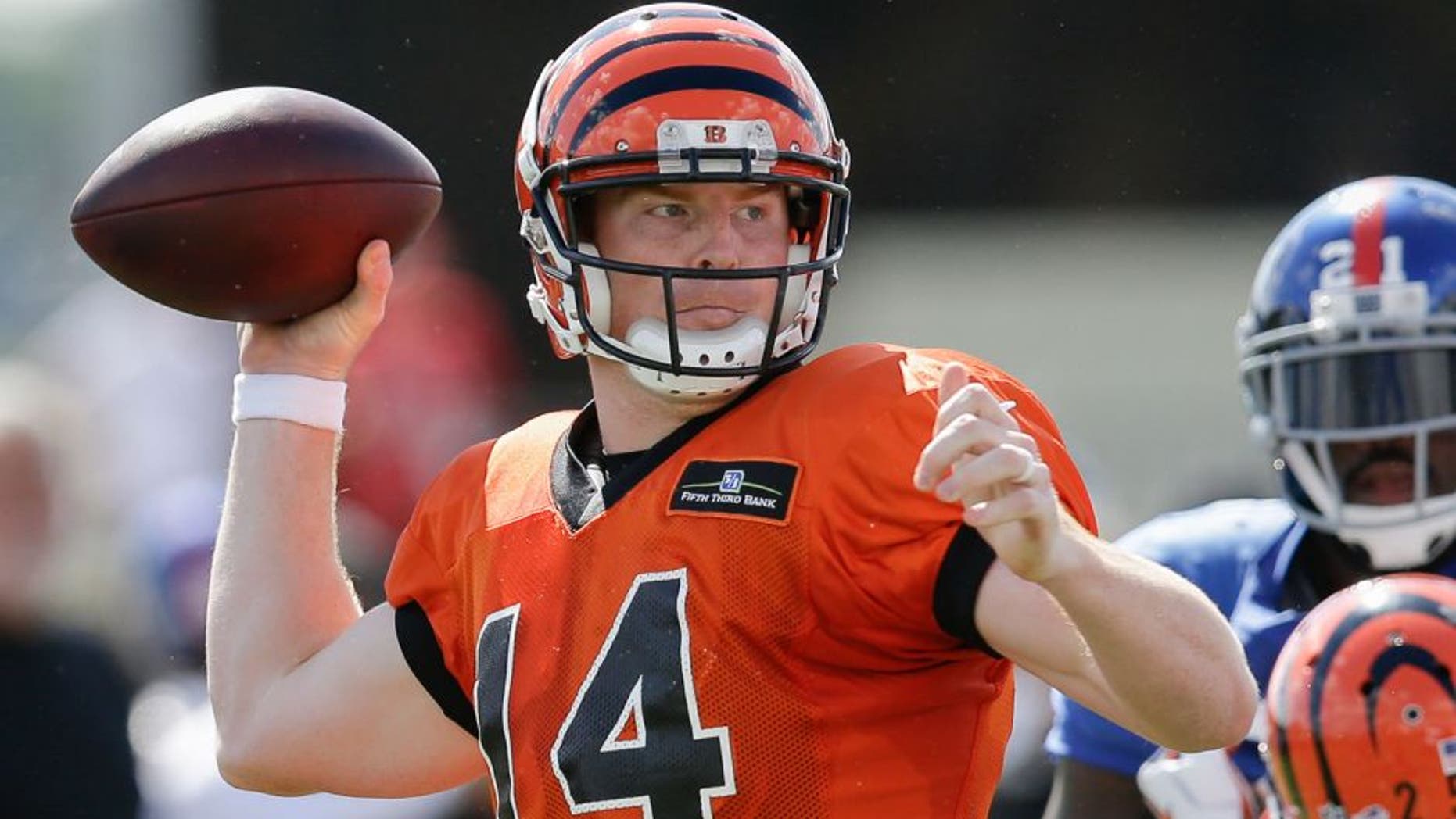 Andy Dalton and the Bengals offense came out firing on all cylinders in Wednesday's joint practice with the Giants in a sneak preview of Friday's preseason opener.
Dalton connected unofficially on his first 11 passes and finished 18 of 27 with his top weapon, A.J. Green, watching mostly from the sideline, according to the team's official website. Dalton led a pair of touchdown drives, hitting Mohamed Sanu and rookie tight end Tyler Kroft for red zone scores. Offensive coordinator Hue Jackson was pleased after a sloppy performance in Tuesday's first joint session with New York.
"I told you we'll fix it," Jackson said. "I don't worry like some people because I know the kind of guys we've got. You don't want to lay an egg. You don't want to lay an egg during the season and we've done that. That can't happen … We're going to nip those things."
Even more impressive was that the offensive production came behind a patchwork offensive line. Starting tackles Andrew Whitworth and Andre Smith were rested, as was left guard Clint Boling. Second-round pick Jake Fisher filled in for Whitworth while Eric Winston and T.J. Johnson rounded out the unit.
Receiver Marvin Jones was back at full steam after missing time with a hamstring injury, which surely made head coach Marvin Lewis happy. Lewis singled out Jones last week to the media, saying he has to practice if he wants to play after missing all of last season with a foot injury.
"He's tired of standing on the sidelines watching his teammates compete," Jackson said. "He's back out there. We want him out there when he's healthy and can play and contribute and so we can keep him out there and I think that's what we're doing."
h/t: Cincinnati Bengals