Bengals OC Hue Jackson: Jeremy Hill will eventually carry load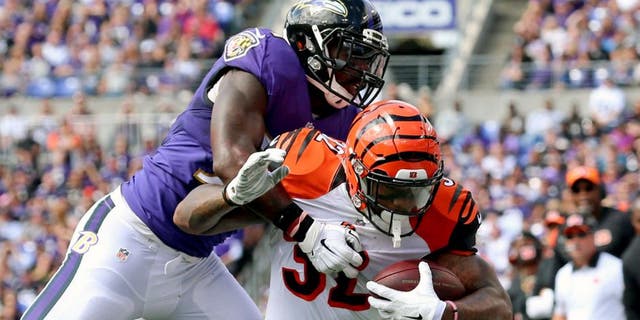 NEWYou can now listen to Fox News articles!
Bengals running back Giovani Bernard may be getting the bulk of the carries lately, but offensive coordinator Hue Jackson anticipates a role reversal once Jeremy Hill gets going.
Hill's inability to get over the hump has been the reason he's largely been relegated to the sidelines in the second half in three of the last four games. He didn't touch the ball after getting three carries on the first drive of the second half against Seattle, while Bernard had 15 touches for 70 yards. For the season, Bernard has 69 carries for 377 yards, an average 5.5 yards per run, while Hill has just 176 yards on 58 rushes, averaging only 3.0 yards a carry.
"Jeremy hasn't had the success that he had a year ago, and I think that's what everybody's looking for," Jackson said per the Cincinnati Enquirer. "But Jeremy's playing and playing well. Jeremy's still our starting tailback. Everybody has seen over the last couple games that Gio has got more carries, more opportunities than Jeremy. Well, eventually that's going to flip.
"I'm just being very honest with you guys. Eventually it will. It's not going to stay the same and it's not going to keep happening like it's happening. That's just people you play, defenses you face, opportunities come up and you've got to make the most of them, and that's what Gio has done."
Jackson believes that the effort is there with Hill, but he's just not finding the same rushing lanes he did last season when he had 1,124 yards and nine touchdowns as a rookie. Part of that could be the decrease in runs with a lead blocker. The returns of Marvin Jones and Tyler Eifert have resulted in more three-receiver sets alongside Eifert, whereas the Bengals struggled to have three healthy and capable receivers at all down the stretch last season. That in turn has left less playing time for H-back Ryan Hewitt, who has only played in 36.7 percent of the team's offensive snaps.
Jackson remains committed to the run, knowing that a balanced offense will help quarterback Andy Dalton the rest of the way.
"I never said it was going to look exactly the same as it did last year," Jackson said. "But I know we have to run the ball ... You have to have enough attempts against really good football teams because if not, too many things can happen to your quarterback that are not fair and fun."