Bengals' Hue Jackson laser-focused on Steelers, not other coaching jobs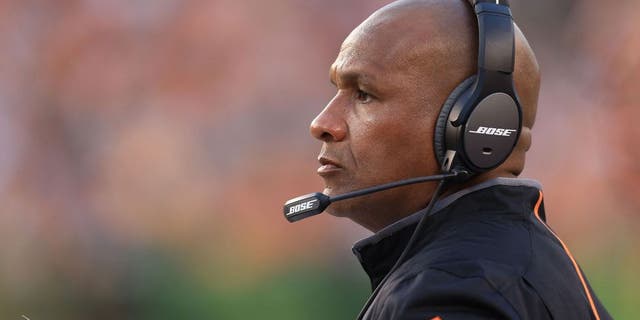 Cincinnati Bengals offensive coordinator Hue Jackson is flattered to be mentioned as a hot head coaching candidate, but for now he says he's tuning out the noise.
Amid reports that multiple teams have requested permission to interview Jackson from the Bengals, Jackson insists he isn't even giving it a thought ahead of Saturday's Wild Card showdown with the Pittsburgh Steelers, per Jay Morrison of the Dayton Daily News.
Jackson certainly has head coaching aspirations and even thought he was in line for the Bills job last season before it went to Rex Ryan. It was reported last month that Bengals owner Mike Brown refused requests from USC and Miami to speak to Jackson about their once-vacant positions.
Jackson was abruptly fired from his previous head coaching job in Oakland after one 8-8 season in 2011, the last time the Raiders didn't have a losing season. Jackson has played an integral role for the Bengals this season, helping Andy Dalton to his best season until he broke his thumb in Week 14.
Considering his recent success, it would be a shock to no one if Marvin Lewis is looking for an offensive coordinator again this offseason.