Bengals' goal-line stands playing huge role in getting to first place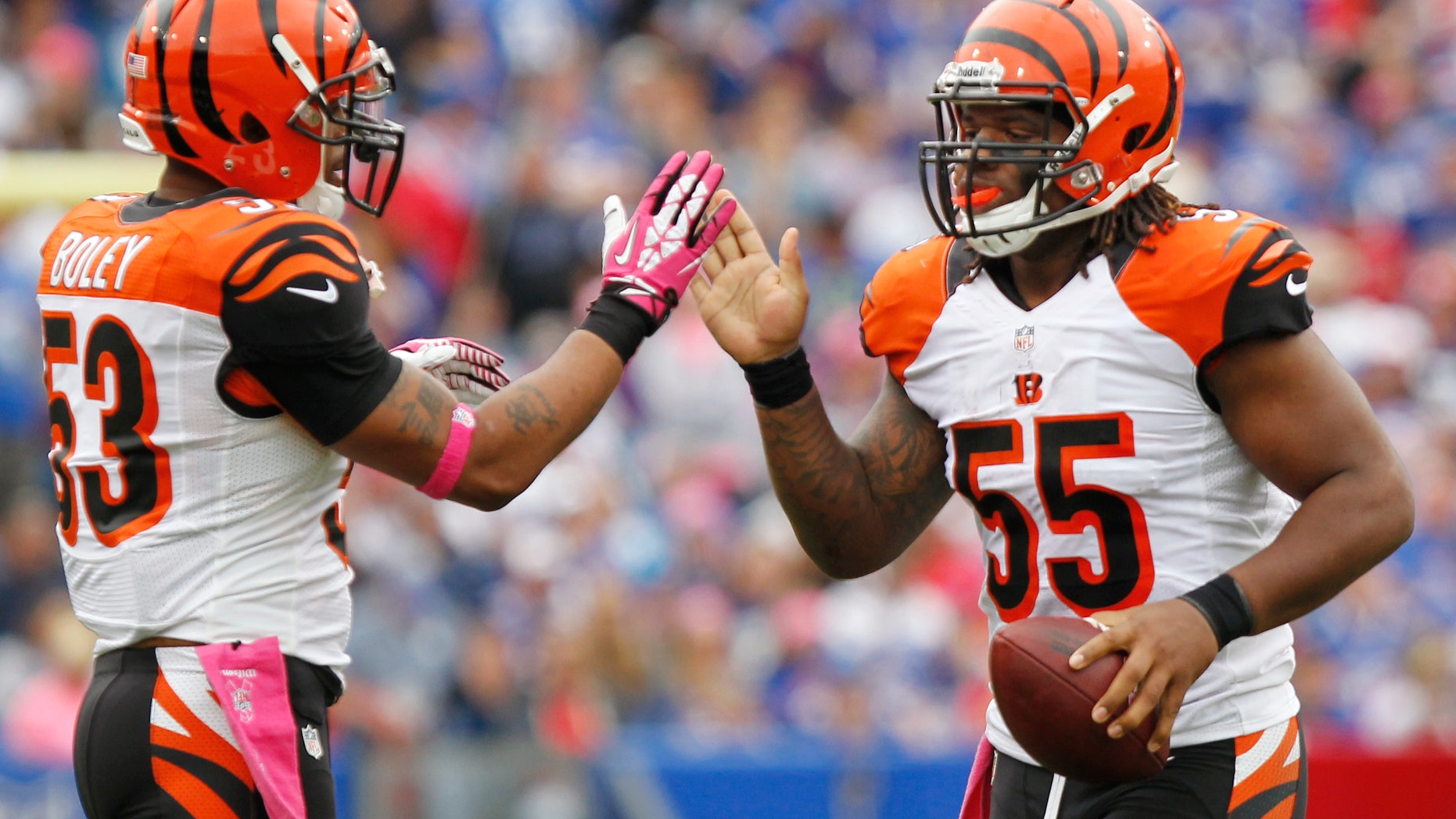 CINCINNATI – The Patriots had first-and-goal, less than 3 feet away from a momentum-switching touchdown. They couldn't get it, settling for a field goal and a stunning 13-6 loss that stopped Tom Brady's touchdown streak.
A week later, the Bills had first-and-goal at the 2-yard line, looking to grab the lead. They ran four plays and got nowhere, turning it over on downs. Eventually, they also lost the game, 27-24 in overtime, and came away regretting the 2 yards that were too much.
Cincinnati's best moments on defense have come right in front of its end zone.
The Bengals have pulled off goal-line stands each of the last two weeks for wins over New England and Buffalo. They're 4-2 and alone in first place in the AFC North for the first time since 2009, and a resilient defense has played a big role in it.
Those stands have come to define a defense that again ranks among the league's top 10.
"It's just all about attitude, their will against ours," defensive tackle Domata Peko said. "We put our foot on the gas pedal and shut them down."
The first one became a footnote to history.
New England trailed 13-3 in the fourth quarter when Danny Amendola caught Brady's pass while falling down at the 1-yard line. Safety Chris Crocker touched him down as he rolled into the end zone.
That touch prevented a touchdown. Brady threw two incompletions and a run went nowhere, forcing a field goal. It was Brady's best chance to extend his streak of 52 consecutive games with a touchdown pass, second-longest in NFL history.
With that, the defense had its first moment in the spotlight.
"We're still creating our image or whatever you want to call us," Peko said. "I know one thing about our defense: We never give up."
In Buffalo on Sunday, the Bills drove to a first-and-goal from the 2-yard line. A run gained a yard, and two more runs were stuffed. Thad Lewis was sacked on a fourth-down play while trying to scramble and throw.
The Bengals then went 98 yards in nine plays for a touchdown and a 17-7 lead. That defensive stand wound up as an early turning point.
"Yeah, it's big," quarterback Andy Dalton said. "For them to come in and stop them on the goal line just kind of shows the attitude of our defense and shows what we can do and the type of guys that we have."
The defense had a lapse in the fourth quarter, allowing the Bills to tie it on a 40-yard touchdown pass. It forced a three-and-out in overtime, setting up Mike Nugent's 43-yard field goal.
The two goal-line stands have given the defense a bit of a swagger when the other team is in scoring range. The Bengals are ranked No. 8 on defense heading into a game Sunday at Detroit (4-2), which has the league's sixth-ranked passing game.
"There's just a lot of confidence," safety Taylor Mays said. "It's something to get excited about. It means a lot. The goal-line stand is one of the best things you can do on defense."
__
NOTES: Dalton was honored on Wednesday as the AFC's Offensive Player of the Week for his performance in Buffalo. Dalton completed 26 of 40 for 337 yards with three touchdowns, one interception and a season-high passer rating of 105.9. ... RB BenJarvus Green-Ellis was excused from practice on Wednesday because of illness. CB Terence Newman was held out with a sore abdomen. C Kyle Cook was limited by a shoulder injury. ... CB Leon Hall had a full practice. He missed two games with a hamstring injury and played the entire game at Buffalo.
__
AP NFL website: www.pro32.ap.org