Bengals coaches OK with Jeremy Hill's touchdown celebrations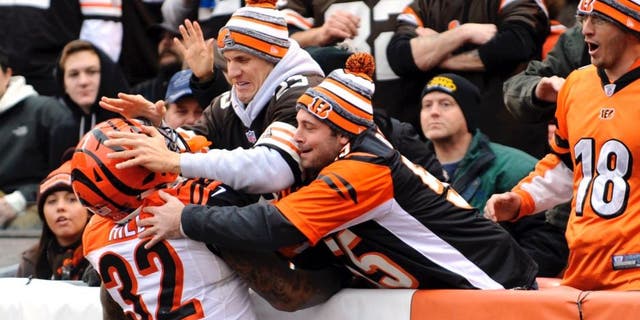 NEWYou can now listen to Fox News articles!
The Bengals coaches have no problem with Jeremy Hill celebrating his touchdowns, as long as he doesn't break any rules doing it.
Hill, who said last week he wouldn't leap into the crowd, had an apparent change of heart after scoring in Cleveland last Sunday. He was confronted by Browns linebacker Christian Kirksey, who was flagged for unsportsmanlike conduct. Hill's coaches approved of that result.
"It's in the NFL rules that they are allowed to celebrate after a touchdown. Just do it within the rules, which is what he did," head coach Marvin Lewis said via ESPN.com's Coley Harvey.
Offensive coordinator Hue Jackson said he likes Hill's "fire" in his belly, and wouldn't try to extinguish it.
"You don't have any fire in your belly you can't play this game. I'm not going to do that," Jackson said. "At the same time, sometimes all the outward expression before things happen is not needed. You got to preserve your energy so you can play good. I mean, I can dance now. Anybody want to see me dance? I can Nae Nae, I can Dab, I can 'Walk it out.' I can do it all. I get my shoulders popping, too, before the game. But I just know how far I can go before my energy and focus is on something else."
Anyone not want to see Hue Jackson dance?