Bengals believe McCarron can win in postseason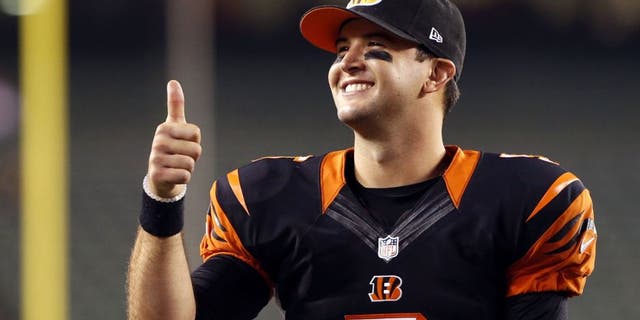 If Andy Dalton isn't able to play when the Cincinnati Bengals kick off their postseason, the team is more than happy to pin its hopes on backup AJ McCarron.
With Dalton's thumb still not fully healed, the likelihood of McCarron getting his first playoff start increases if the Bengals are unable to secure a first-round bye. To do so, they need help from San Diego against Denver, plus a Kansas City win over Oakland if Cincinnati is unable to get by Baltimore.
Bengals left tackle Andrew Whitworth told ESPN.com's Coley Harvey that he has all the confidence in the world in McCarron.
Playoff wins have been hard to come by in Cincinnati. The Bengals haven't tasted victory in the postseason since 1991, and are 0-6 under Marvin Lewis. A win by McCarron in the playoffs would be something Dalton hasn't done in four straight postseasons.
Dalton's broken thumb hasn't healed as quickly as he would like, leaving his chances of returning before the divisional round up in the air. If the Bengals can reclaim one of the top two seeds, they may not need McCarron's services at all in the playoffs.