Benched A-Rod Hoping to be Back for Yankees-Rangers Series Finale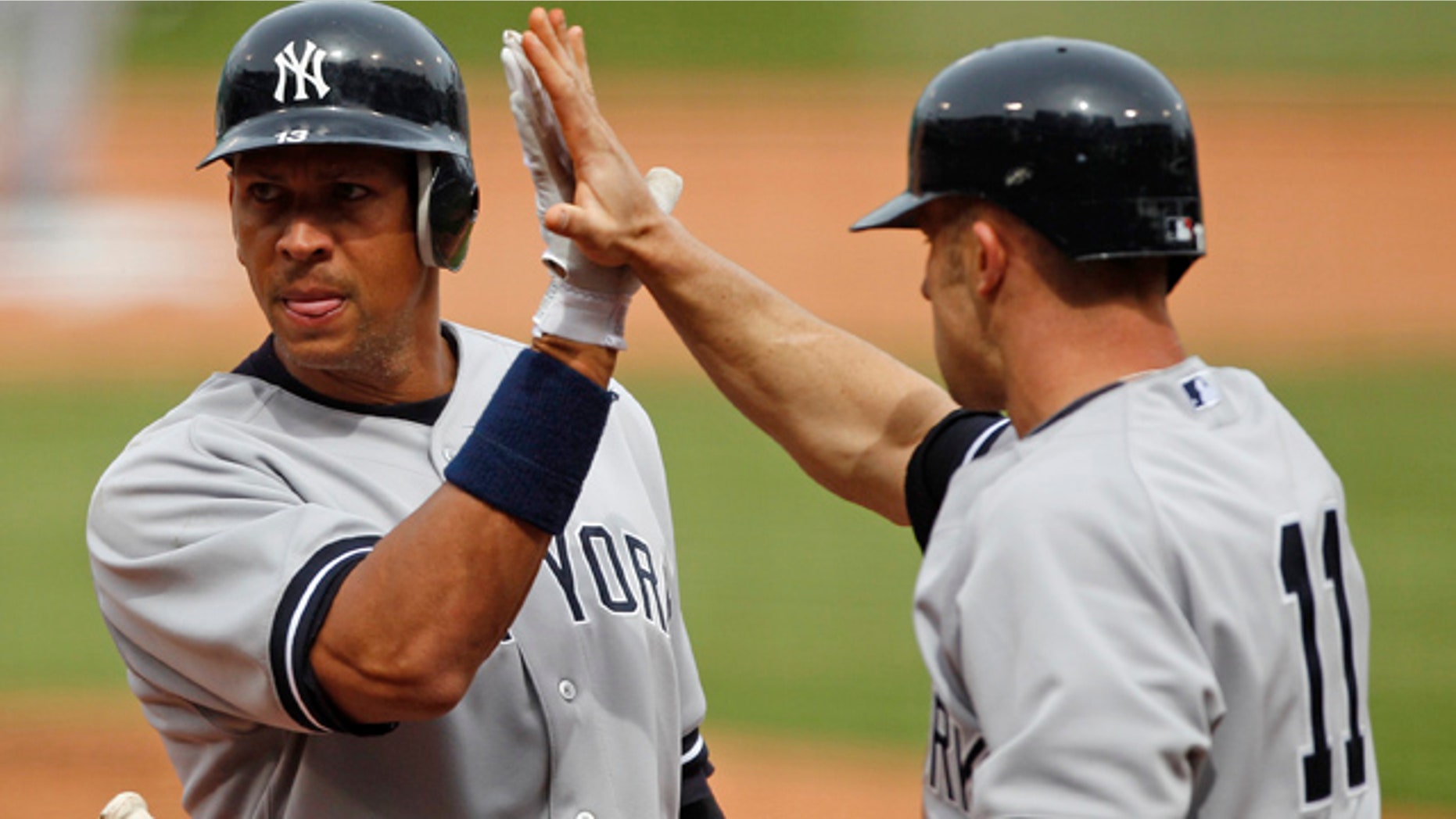 NEW YORK -- Yankees third baseman Alex Rodriguez was hoping a change in the weather would allow him to play ball Sunday after he was forced to leave Saturday's 5-2 win over the Texas Rangers because of stiffness in his right oblique and lower back.
The Yankees do not sound too concerned ahead of the series finale and have not ordered any tests, but Rodriguez is 35 years old with a history of steroid use and disabled list trips each of the past three seasons.
Rodriguez described it as a "knot" in his oblique that got worse as the day went on. He said the dreary rain at Yankee Stadium did not help. "I just couldn't get it warm in this weather," he said.
Rodriguez went 0-for-2 with a walk before Eric Chavez replaced him at third base to start the seventh inning. Rodriguez dived to stop an Elvis Andrus groundball in the third inning, but said that play had no effect on his back.
"I actually felt it just more on my swings," Rodriguez said. "I was just swinging weakly [Saturday], trying to protect it a little bit. Hopefully, [Sunday] we'll get a little better weather and I'll be feeling better."
Yankees manager Joe Girardi is known to be cautious with injuries, often giving players an extra day off after they tell him they are ready to play.
"I will listen to him," Girardi said about Sunday's game. "I will listen to the doctors and the trainer. If he is stiff, he probably won't play."
Rodriguez has started off hot this year, hitting .385 with four home runs and nine RBIs through 12 games. He missed a game last week in Boston with the flu.
It has been a struggle for the three-time AL MVP to make it through a season healthy in recent years. He has not played 140 games since 2007, missing time in 2008 with a strained right quadriceps, in 2009 with a right hip labral tear that required surgery, and last season with a strained left calf.
Rodriguez sounded hopeful that this was not something that would cause him to miss a game.
"We'll see," Rodriguez said. "See how I wake up. I don't have a crystal ball, but hopefully I wake up much better and the weather helps."