Ben Rothwell, Josh Barnett both willing to save UFC 196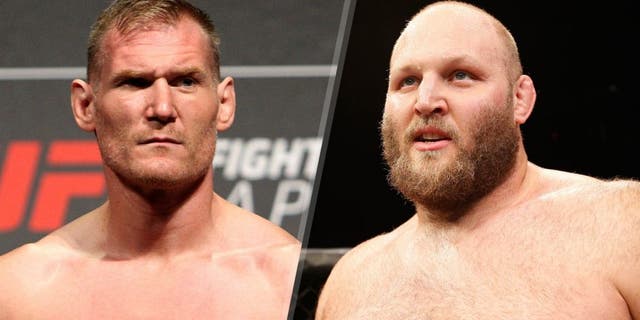 No one seems sure what will happen to UFC 196 now that heavyweight champion Fabricio Werdum has dropped off the card, but if the promotion still needs a championship main event, Josh Barnett and Ben Rothwell are both waiting for the call.
Barnett and Rothwell are set to face off this weekend at FOX UFC Fight Night in Newark, New Jersey, but both heavyweights would love the chance to step up and compete for an interim title if that's what the promotion needs to save the event.
Barnett conducted a media luncheon on Monday just after Werdum revealed that he was injured and would no longer be able to fight late-notice replacement Stipe Miocic at UFC 196.
Barnett jumped at the chance to accept the fight if the UFC wanted to offer him a shot at the belt against Miocic during Super Bowl weekend in Las Vegas.
"If they page me 9-1-1, if they send me the number, I will absolutely take the fight," Barnett said. "If they want a heavyweight championship main event, I'm your man. I'll go in, I'll take care of business and I'll give them what they want. I'll give them what they need, which is a healthy, motivated, championship fighter. That's what they'll get.
"Interim title. It's set up for a title match. Let's keep it going. That's what they need on Super Bowl weekend. They need a title fight. They need a heavyweight title fight. That's what we can provide. Former champ and a No. 1 contender. That's what people want to see. They want to see championship-level fights, they want to see guys go at it. We can do it."
Barnett said his manager is "handling this right now," but it appears the former heavyweight champion is ready to forgo his fight this weekend in favor of the UFC 196 main event.
On the flipside of the argument stands Rothwell, who is currently riding a three-fight win streak into his fight scheduled with Barnett.
He expressed a similar interest in saving UFC 196 next weekend, but he added one very unique caveat to his offer if the promotion wants to give him the shot against Miocic instead.
"History repeats itself. I've ended my last two fights in under two minutes. I can do this to anybody. If I do that to Barnett, I absolutely will fight Stipe right after. Barnett's like, 'Oh, I don't want to fight Ben, I'll fight Stipe'. No, I'm going to end Barnett and I'm going to end Stipe. That's my mentality," Rothwell told FOX Sports on Monday night.
"I have no problem ending Barnett in two minutes and then fighting Stipe. Hey, maybe it's a war. Fine, I don't care. 15 minutes, my body can recover. Of course any of us can have a real bad back injury, it is what it is, everybody understands. But I have come out of my last three fights very healthy and with that continuing -- have at it."
Rothwell further explained that while most fighters don't want to look past what's directly in front of them, he refuses to play that game.
Targeting what you want next is a big part of Rothwell's visualization towards victory, and he has no problem predicting a win over Barnett and then finally getting a shot at Miocic, who he was first supposed to face last October before an injury to the Ohio native caused the fight to get cancelled.
"I see a lot of guys are like, 'I don't want to talk about the future, I've got to focus on now, you don't want to mess with karma'. Karma and I are in agreement -- we understand each other," Rothwell said. "All those things, yes, I'm focused on this fight but that doesn't mean I'm not ready. I'm prepared to win. I'm not scared to say, yeah, I'm going to beat him and this guy is next.
"I am looking at the future and I am looking at the future guys I want to fight. I played that game in the past where I was like, 'Oh, I just want to focus on this fight'. No. It's almost like superstition and superstition doesn't exist unless you make it up in your head. I've prepared myself for victory."
Barnett seems just as willing if the UFC opts to pull the trigger although at this late date it still seems uncertain that either man will get the chance to compete at the show next weekend.
"I know I have a fight ahead of me, which makes it so much easier to say put me in. I'll go," Barnett said. "You want a heavyweight championship? Not to take away from Ben (Rothwell) or to put him in the chicken coup so to speak, I'm ready, I'm willing, I'm capable. I'll fight Stipe. I'll go five rounds for a heavyweight title right now."