Beltre bobblehead features removable helmet for head-touching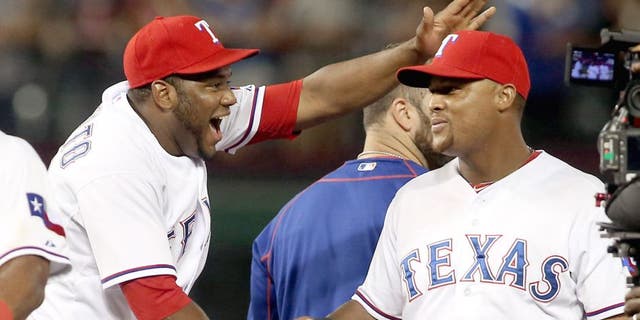 Texas Rangers third baseman Adrian Beltre has a "thing" about people touching his head.
He doesn't willingly let anyone do it, and if they catch him off-guard with a head-pat he reacts as you'd expect.
The Rangers announced part of their 2016 promotional schedule this past weekend, and it's highlighted by a Beltre bobblehead giveaway Aug. 14. The mini-Beltre, you see, has a removable helmet so fans can rub his head at will.
Evan Grant of the Dallas Morning News shared an image on Twitter:
If you needed a visual reminder of just how much Beltre dislikes head-touching, here is Detroit Tigers star Miguel Cabrera messing with him:

Beltre's teammate, Elvis Andrus, has also been caught on video attempting to touch the head and receiving his punishment afterward:
So while fans may not have the opportunity to touch Beltre's REAL head, those receiving the bobblehead will at least have that chance as a consolation prize.
Other bobblehead giveaways of note for the upcoming season include a Cole Hamels bobble July 10, a "Star Wars" Andrus edition Aug. 27 and, perhaps even most notably, a likeness of manager Jeff Banister modeled after the Rangers and Houston Astros' on-field tussle back on July 18.
The Banister bobblehead will be given away on April 19, when the Astros visit Globe Life Park in Arlington.
Recently, word was that the Rangers had opened a dialog with Beltre about a possible contract extension, as they are hopeful of keeping him in a Rangers uniform for the rest of his playing days.