Belmont University Students Protest Lesbian Coach's Departure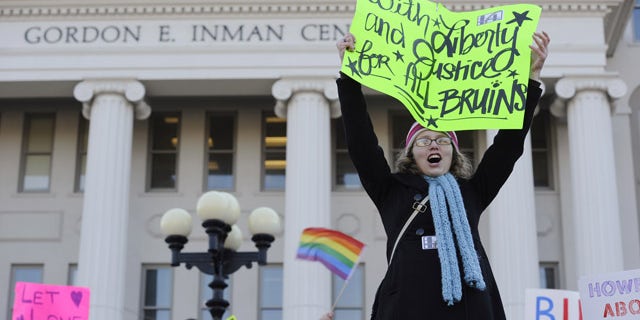 Students at Belmont University protested the departure of the women's soccer coach again on Wednesday, calling on the school to make amends after her players say she was let go for telling them she is expecting a child with her same-sex partner.
A crowd that included some of Lisa Howe's former players held a three-hour protest Wednesday afternoon pushing for a change allowing for freedom of sexual orientation. Mike Curb, a music industry executive and major donor to the private Christian school, wants Belmont to rehire Howe and "act like Christians."
In a statement from her attorney, Howe told The Associated Press she misses her team and thanks Curb for his "powerful statement." She had not talked with Belmont officials directly and said her head is spinning.
"Coaching is my passion and my life's work," Howe said. "I do know that policies and attitudes would have to change for me to come back to Belmont and feel safe and welcome and for me to feel like my family would be safe and welcome."
Neither Howe nor Belmont have said why the coach left Dec. 2. Belmont issued a statement Friday calling her departure a "mutual decision." Asked Wednesday if she was pushed out for telling her players about her personal life, Howe declined comment through her attorney.
That hasn't stopped Howe's players from talking, or gay and lesbian students from objecting to her departure. About 50 students protested the decision on Sunday, a sit-in was held Monday outside the office of the university president and Curb made his statement Tuesday.
Curb is a major donor whose name is on several buildings, including Belmont's basketball arena.
Sophomore Brandi Phillips said what happened to Howe is "really heartbreaking."
Her teammate, Laura Harris, also a sophomore, said the controversy has brought the soccer team closer together.
"There's nothing more we can do. We've got it all out there. All we can do now is hope for change," Harris said.
Belmont is seen as a progressive university that had been affiliated with Southern Baptists until it broke away in 2007, wanting to bring greater Christian diversity to its board of trustees. The university has thrived on its connections with Nashville's music industry and even hosted one of the 2008 presidential debates.
Curb made what students called a "game-changer" of a statement Tuesday.
"Belmont has to decide whether they want to be a national recognized university -- particularly with their school of music business -- or they want to be a church," Curb said.
A trustee emeritus, Curb issued a new statement Wednesday saying he spoke out because another board member spoke out on Belmont's behalf and that he had heard nothing from university officials for six days.
"President (Bob) Fisher has asked me as a member of the Board, now that I've made my statement completely, to hold off making any further statements to give him an opportunity to resolve these issues so that this type of injustice can never happen again," Curb said in his statement. "I promise you if the matter is not resolved, I will continue speaking out about this the rest of my life."
Fisher held a short news conference late Wednesday where he took no questions and said gay and lesbian students and faculty are welcome. He also said Belmont does not consider sexual orientation in its hiring or dismissals.
Howe had been coaching at Belmont the past six seasons, going 52-48-16 and winning the Atlantic Sun Conference regular-season title last year. Her players want her judged on her record and performance with her program.
Senior Erica Carter, days from graduation, wants state laws to provide protection against discrimination based on sexual orientation. She said coaches should be judged on their success and Howe's resume -- which includes two championship rings in three years and an NCAA tournament bid -- speaks for itself.
"Do they treat their players well?" Carter said of coaches. "Do they demand the best from them? Are they excellent at their jobs should be the only thing they're judged on."
Even though Howe hadn't shared details of her private life with her team before, players said they knew because it's impossible for details not to slip out. They said they never felt uncomfortable around Howe.
"She was, throughout her years, very professional," Harris said. "Completely kept her personal life to herself. Never showed anything to us."
Carter has taken the lead, along with her teammates, in sharing the news of what happened to their coach. More than 130 people took part in Wednesday's protest where students walked across campus before stopping at the main street in front of Belmont. Protesters came and went with passing cars honking in support.
One of the many signs read, "Is this what you wanted?"