Belichick jokes about Tom Coughlin's 'biggest wins' coming vs. Pats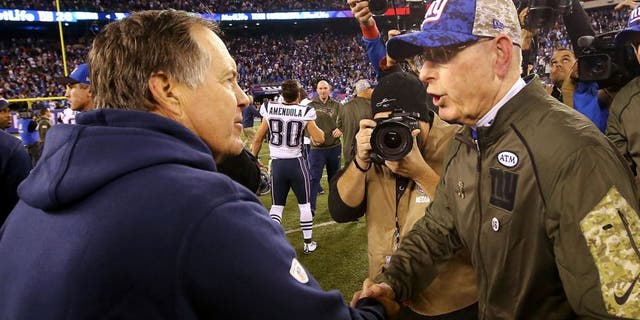 Bill Belichick and Tom Coughlin will forever be linked for their accomplishments in the NFL, winning a total of six Super Bowls as head coaches. They'll also be connected for two of the most memorable games in recent memory. Unfortunately, we may not see the two coaches square off in the future as Coughlin is no longer the New York Giants' head coach, but their history won't soon be forgotten.
Belichick sure won't forget the time the Giants beat the New England Patriots in the Super Bowl -- not once, but twice.
Via WEEI.com:
"Lots for him to be proud of," Belichick said. "Unfortunately, a couple of his biggest wins came at our expense. He deserves a lot of credit for all he's accomplished in his career."
Of course, Belichick's referring to the Super Bowl in 2008 and 2012 when the Giants triumphed the Patriots in dramatic fashion. That doesn't take away from the respect that Belichick has for Coughlin, though.
"Tom's had a great career as a head coach and an assistant coach," Belichick said in conference call Tuesday. "BC, Jacksonville, New York. He's been a friend of mine for a long time. I have a lot of respect for Tom, his family, the way he approaches his job and the way he coaches. We have a great relationship at the Giants when we were on the same staff and had good relationships through our respective careers."
Belichick is referring to the times when he and Coughlin worked together at Boston College, in Jacksonville with the Jaguars, and with the Giants. In fact, they won a Super Bowl together in 1991.
It's sad to think fans may never see these two on opposing sidelines going forward, but they treated everyone to some outstanding games in the past.