Belgium looking for entry into World Cup 2nd round by beating Russia; Kompany question mark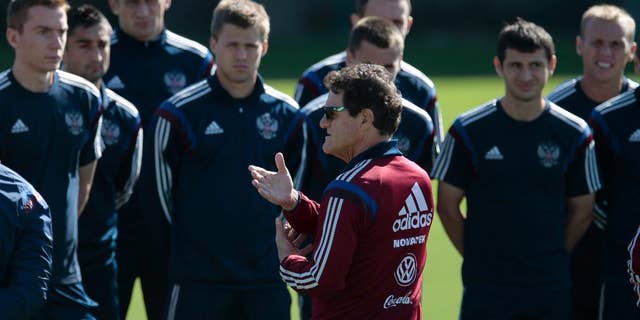 MOGI DAS CRUZES, Brazil – With the second round just one victory away, Belgium is sweating on the fitness of captain and defender Vincent Kompany ahead of its World Cup game against Russia.
After wearing down Algeria's defense before coming from behind to win, Belgium could well face a similar battle of attrition against Russia at Rio's Maracana stadium on Sunday in Group H.
Belgium coach Marc Wilmots has always relied on Kompany to keep the way to goal nearly impregnable and to lose the Manchester City defender, who is nursing a groin strain, would be a serious blow.
"We are waiting," said Wilmots, unwilling to anticipate how serious the injury might be. Apart from its first-half penalty, Algeria never came close to scoring in Belgium's 2-1 victory in the opener.
At least Wilmots has a healthy cushion since Belgium leads the group with three points, ahead of Russia and South Korea with one. Algeria has zero points.
Victory on Sunday would see Belgium through and might also allow Wilmots to give Kompany a rest ahead of the knockout stage.
For Russia, coach Fabio Capello has to decide whether to stick with goalkeeper Igor Akinfeev, whose blunder by letting a soft shot slip through his hands allowed South Korea to draw 1-1 in their opening game.
If Russia comes out looking for victory, it might offer the time and space for playmaker Eden Hazard to make a real impact on the World Cup with the creative moves that have made him such a key player for Chelsea in the Premier league.
Capello is too cunning a coach though to fall for any easy trap. Yet if Russia falls back, don't count on Belgium to push forward with all its might either.
"If we will play against a wall, we have to learn to be patient," Wilmots said. It is exactly what Belgium did against Algeria, tiring the Africans with possession play before making the breakthrough with fresh substitutes in the second half.
"They are not the fastest players in the world," said Belgian defender Nicolas Lombaerts, who has been playing in Russia for Zenit St. Petersburg since 2007. "With our speedy forwards, we should be able to exploit that weakness."
Russia came into the World Cup with plenty of ambition after winning a qualifying group which also included Cristiano Ronaldo's Portugal. Its poor showing in the 1-1 draw against South Korea made its entry in the tournament all the more disappointing.
So far, Russia has still been unable be to make up for the absence of Roman Shirokov — a driving force in midfield who was a last-minute omission for Brazil because of injury. It's an absence that his teammates will need to overcome on Sunday.
___
Follow Raf Casert on Twitter at http://www.twitter.com/rcasert