Before NFL career, Colts' Pat McAfee wrestled 'Warpig' against agent's wishes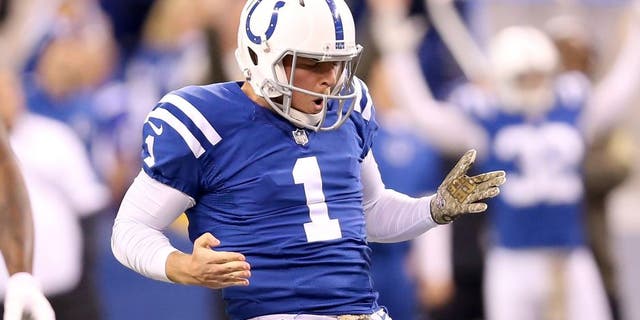 Indianapolis Colts punter Pat McAfee is a fun-loving guy who dabbles in celebrations on the field, performs stand-up comedy off of it, and once stepped into a wrestling ring against a giant man pig named "Warpig."
This occurred after McAfee, now 29, finished his collegiate football career at West Virginia and awaited the 2009 NFL Draft. It was just something he always wanted to do.
"If it wasn't for finding out that my right leg could kick a ball really far, which is what I did, I am 100 percent certain that I would be attempting to be or would be a professional wrestler," McAfee told the Indianapolis Star's Jim Ayello.
Naturally, McAfee's agent protested his client's desire to enter the ring against Warpig, which McAfee did anyways. The footage is a bit grainy but you can still catch a glimpse of this creature walking around ominously in a boar's mask and a butcher's apron. Meanwhile McAfee is just a dude in a tee shirt and cargo shorts:
"My agent said, 'Do not get in that ring, whatever you do. Please!'" McAfee recalled. "So I go down there, and they go, 'You want to get in the ring?' And I go, 'Yeah! 'Absolutely!'"
Fortunately, McAfee executed some solid maneuvers and made it out alive, and later got drafted by the Colts in the seventh round.
"It was an awesome experience," McAfee said in a post-match interview (below). "I was so scared of him I couldn't even fathom that this big large human being... I'm feeling lucky because he could have killed me. That's a fact actually. I'm happy to get out of here healthy with my leg, more than anything. Warpig actually attacked the wrong foot, which is excellent."