Before injury, Cobb made season's greatest catch that never was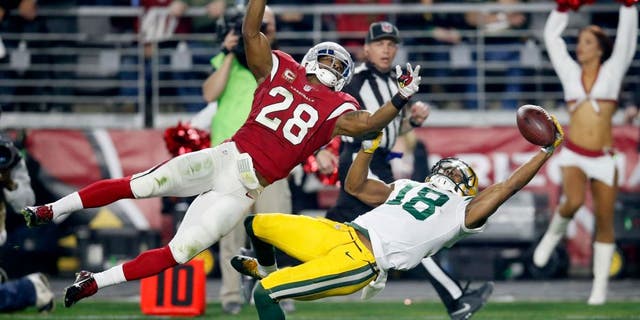 Before leaving the Divisional round playoff game against the Arizona Cardinals with a chest injury, Green Bay Packers wide receiver Randall Cobb made one of the greatest catches of the year -- until it was nullified by penalties.
Watch the bomb from quarterback Aaron Rodgers and Cobb's one-handed catch 51 yards later in the video player below.
Via the NFL's official Twitter account:
The insane play was nullified by three different flags on the play. Two penalties were on the Cardinals, as they had 12 men on the field and linebacker Markus Golden was called for an illegal use of hands. The third penalty was on Packers right tackle Bryan Bulaga, who was called for an illegal shift.
As a result, the penalties offset and the down was replayed. Just like that, Cobb's highlight-reel play was completely wiped out of existence.
In fact, Cobb finished the game without a single catch. Shortly after that failed connection in the first quarter, he left the game with what turned out to be a bruised lung. He spent the night in an Arizona hospital and was released on Sunday morning.
This pass from Rodgers to Cobb could have been an early game-changer, but the penalties and the injury worked against the Packers in a game that was eventually decided in overtime.