Beckman in no hurry to name Illinois' starting quarterback, but Lunt brings high expectations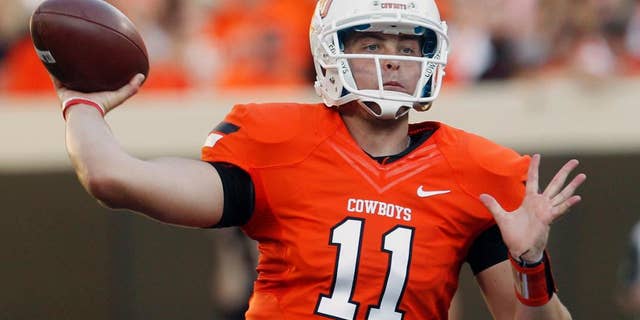 CHAMPAIGN, Ill. – Illinois coach Tim Beckman is in no hurry to name a starting quarterback, insisting that the competition to succeed Nathan Scheelhaase is wide open.
But when the Illini wrap up spring football with the Orange and Blue game Saturday, a lot of eyes will be on No. 12, the quarterback many assume will emerge as the starter. At 6-foot-5, Wes Lunt looks the part. He has the arm and pedigree — one not seen at Illinois in a while — to match.
And Beckman said he has something else — leadership and what might loosely define as work ethic.
Lunt sat out under NCAA rules last season after transferring from Oklahoma State, a season in which Scheelhaase finished up his career as an Illini favorite. For most, Lunt was out of sight. But working late on week nights, the coaching staff saw plenty of him.
"You'd be watching film and come out you'd see Wes Lunt underneath the lights running extra sprints to try to get his body better," Beckman said.
Lunt is an Illinois kid. He grew up in Rochester, just east of Springfield and a little more than an hour from the Illinois campus. In high school he led Rochester to back-to-back state titles, big games played in Memorial Stadium, Illinois' home field.
But the kid who says he grew up an Illinois fan was lured south by a shot at something new, different.
"I definitely looked at Illinois," he said. "But once you have different schools recruit you that you've never heard of ... I went out and visited, fell in love."
With the people, with the facilities financed by oil tycoon T. Boone Pickens — "unbelievable," he calls them — and with the offense, he said. While Lunt was a high school senior, the Cowboys were routinely scoring 40, 50, even 60 points a game.
The next fall he became the first freshman to start a season opener for Oklahoma State since at least 1950. But a pair of injuries limited his season to six games, and by the time he was healthy, he'd lost his job. Lunt looked to move on, finally deciding to head home.
He has skills Illinois hasn't had in more than a decade. Scheelhaase relied on his feet first and his predecessor, Juice Williams, was inconsistent as a passer and valued almost as much for his mobility as his arm. The last big passing quarterback at Illinois was Kurt Kittner, whose last season was 2001.
Lunt is strong-armed and accurate, offensive coordinator Bill Cubit said.
That means he can throw the ball across the width of the field with power. And receivers sometimes accustomed to softer throws are now seeing something else.
"All of the sudden that ball is on a line now," Cubit said. "It's a big adjustment for our wideouts, some of our wideouts, that that ball is coming through there (fast)."
Mikey Dudek is one of those receivers. An early enrollee, the 5-11, 180-pound slot receiver will be a freshman this fall.
"There was an out route I caught in the scrimmage last Friday, and he threw it right over the defender — and I don't know how he did it," Dudek said.
Cubit's offense, which was one of the Big Ten's more productive last season, is surprisingly complex, Lunt said. But he loves it.
"It's all on the quarterback. Every quarterback wants to have the ball in his hands and make the play and make the right checks and everything," he said. "I've learned as much football in the past year as I've learned in my entire life."
All that does not mean that Beckman and Cubit have settled on the redshirt sophomore.
Senior Reilly O'Toole has played part or all of 23 games at Illinois, and points out that he's probably more familiar with Cubit's offense than anyone at this point. And sophomore Aaron Bailey, a four-star recruit, saw action in nine games last fall.
The decision, Beckman said, will come sometime after spring practice ends.
___
Follow David Mercer on Twitter: https://twitter.com/davidmercerap