Bears offseason to-do list, starting with Alshon Jeffery's future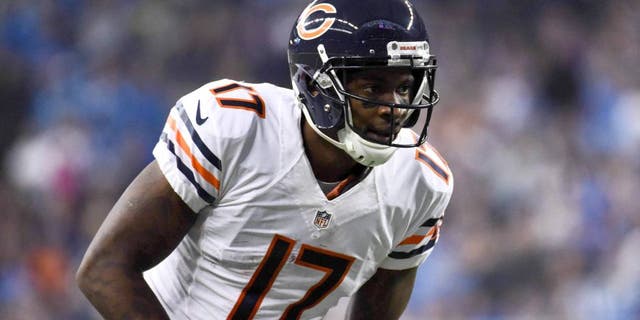 Each day between now and post-Super Bowl Monday, we'll roll out a get-to-the-point offseason plan for one NFL team. Today, the Bears; tomorrow, the Giants. After that, we'll see. Here's our three-point plan for Chicago:
1. Make the call on Alshon Jeffery
The wide receiver has shown game-changing ability throughout his four seasons in Chicago. Though health was an issue as he played in only nine games this season, the thought of pairing Jeffery and 2015 first-round pick Kevin White is frightening for opposing coordinators. As Jeffery is set to hit the open market, the Bears have three options: put a franchise tag on him, sign him to long-term deal or let him walk. The franchise tag would cost the team in excess of $13 million a year. Signing him to a long-term deal could be a bit more tricky. The Chicago Tribune's David Haugh reported earlier this month that one source said Jeffery "felt unhappy in Chicago" and that there were points during the season that he had felt "isolated." If that's the case, does it make sense to hand him a deal loaded with guarantees? That's something the Bears' front office will have to weigh, but allowing a Pro Bowl-caliber player to leave town would certainly be considered a colossal failure.
2. Add a ball-hawking DB
The Bears had eight interceptions in 2015, which ranked 30th in the NFL. Though the secondary showed a lot of progress, finding a defensive back who can create turnovers should be a priority. The Bears enter the offseason with the second-most cap space in the league. Expect Chicago to be active but not one of the teams that spends just to spend. "We can be a little more targeted now that we really know our team extremely well," general manager Ryan Pace told reporters this month. "I don't think you're going to see us make one splash free-agent signing. I think it's going to be kind of, spread out your resources a little bit." With a deep free-agent class at defensive back headlined by players like Josh Norman, Eric Weddle, Eric Berry and Prince Amukamara, the Bears could have some intriguing options.
3. Walk a delicate line with Matt Forte
One of the toughest decisions general managers make is deciding when the right time is to cut a cord with an aging fan favorite. Former Bears general manager Phil Emery had his loyalty questioned by fans after he released linebacker Brian Urlacher and return specialist Devin Hester in successive offseasons. Pace now faces the question of what to do with running back Matt Forte. Entering his ninth season, Forte will turn 31 next year. Can the Bears find a way to get a deal done that makes sense for both sides, or do they value what they have in running back Jeremy Langford enough to deem Forte expendable?
EARLIER TO-DO LISTS
• Tennessee Titans
• Houston Texans
• Cincinnati Bengals
• Minnesota Vikings
• Washington Redskins
• Cleveland Browns
• Dallas Cowboys
• San Diego Chargers
• Kansas City Chiefs
• Green Bay Packers
• Seattle Seahawks
• Pittsburgh Steelers
• San Francisco 49ers
• Baltimore Ravens
• Jacksonville Jaguars
• Tampa Bay Buccaneers
• New England Patriots
• Arizona Cardinals